**Note: I received this crate for free in exchange for providing a review.*
After reading great reviews about subscription boxes over the past few months, I decided to jump in head first!
I'd previously tried Stitch Fix (read about my experiences here!) and wasn't 100% in love with it … I love clothes and somewhat like surprises. I just realized that I don't necessarily like both of those elements combined!!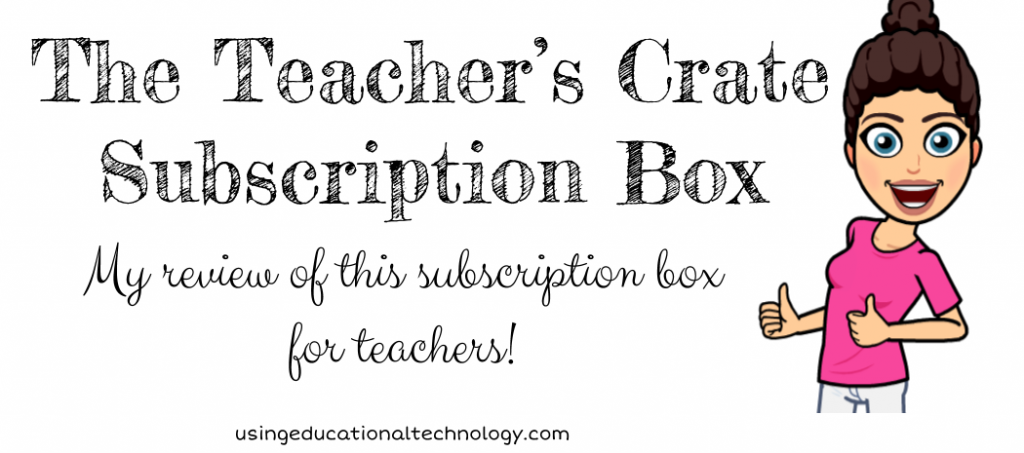 Earlier this year, I did some research on exactly what type of subscription box I wanted to try -> I definitely DID NOT want to subscribe to a box that I wouldn't get much use out of because WOW, what a waste of money that would be! The boxes that send tons of makeup or jewelry are not down my alley, quite frankly because I wear very little of either!
What kind of subscription box would I be interested in … a box just for teachers, of course!
I did a quick Google search for boxes for teachers and stumbled on The Teacher Crate subscription box. I immediately followed them on Twitter because that's what I do when I find something interesting – find them on Twitter! I sent them a message inquiring about their awesome box and, a few weeks later, it was on my doorstep!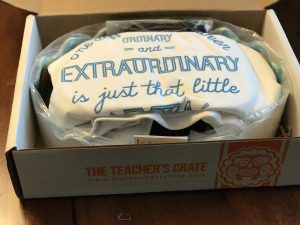 What was in the box?
Awesomeness for teachers!
I opened the adorable box and found …
–> Jumbo highlighters
–> Mini notebooks with inspirational covers
–> Adorable socks with wine glasses
–> April bulletin board border
–> Magnetic whiteboard eraser
–> Teacher t-shirt
Interested in ordering your OWN Teacher's Crate? Check out their website and choose from one of four subscription plans, ranging from $30.94 – $34.95 monthly.
Also, be sure to follow The Teacher's Crate on Facebook, Twitter, and Instagram to be notified of awesome crate spoilers!
Recently, The Teacher's Crate unveiled a HUGE spoiler on social media … they're including a CUSTOM TEACHER PLANNER for next school year!!!! Yayayayayayay!!!
Definitely, check out The Teacher's Crate! It's a super fun box just for teachers!
Thanks for reading 🙂