Bring me to your school! I'd love to work with you and your colleagues to intentionally implement technology in the classroom to increase engagement and enhance learning.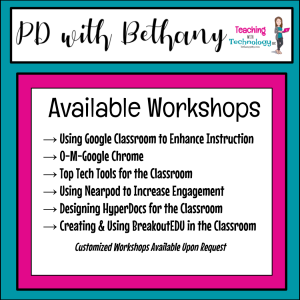 The following workshops are available to you and your staff:
→ Using Google Classroom to Enhance Instruction
→ O-M-Google Chrome
→ Top Tech Tools for the Classroom
→ Using Nearpod to Increase Engagement
→ Designing HyperDocs for the Classroom
→ Creating & Using BreakoutEDU in the Classroom
→ Fun and Effective Formative Assessment
→ "Flipping" Flipped Learning
→ Innovative Instruction
→ and much MORE!
Customized workshops are available upon request! Please email me at bethany@bethanypetty.com to discuss options, pricing, and availability. I look forward to working with you!