I've recently discovered and fallen head-over-heels in love with HyperDocs! I'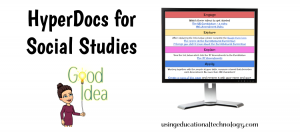 ll be adding HyperDocs that I created and use in my classroom to this page.
Please click on the links below to check out the HyperDocs. If they are in Google Doc/Slides form, please select "FILE–>MAKE A COPY" to use in your classroom. Many HyperDocs are in Google Site form. If you have any questions, please reach out!
Introduction to Government HyperDoc
Foundations and Formations of Government HyperDoc
US Constitution HyperDoc – Entire Unit
Economic Theories Mini HyperDoc
Use of Presidential Power Mini HyperDoc
Legislative Branch at Work HyperDoc (sites – entire unit)
Executive Branch HyperDoc (sites – entire unit)
If you're interested in learning more about HyperDocs, order your copy of The HyperDoc Handbook from Amazon (affiliate) here!
REMEMBER -> these HyperDocs are created by me and are not intended to be for sale. Please do not attempt to copy my resources and sell them for personal gain!
Check back soon for more HyperDocs!