About a month ago, I was contacted by Stile, an EdTech company out of Australia. They presented their super cool lesson builder, and asked if I would give it a try.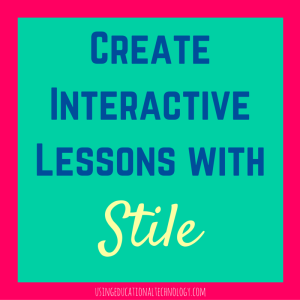 I did. My thoughts?
Holy moly. This tool is AH-MAZING!
Stile allows teachers to build interactive lessons with a simple drag-and-drop feature.
Are you a flipped teacher? Easily add a video from YouTube, Vimeo, or your computer to your Stile lesson.
Do you teach Math? Stile offers graphing, table, and drawing options that you can easily add to your lesson.
Students can upload documents to the lesson assigned by the teacher. If you require your students to take notes while they actively view your flipped video, then this feature would be spectacular for you!
Here's a quick list of options for your interactive lesson.