About a month ago, I was contacted by Stile, an EdTech company out of Australia. They presented their super cool lesson builder, and asked if I would give it a try.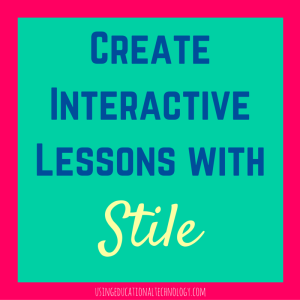 I did. My thoughts?
Holy moly. This tool is AH-MAZING!
Stile allows teachers to build interactive lessons with a simple drag-and-drop feature.
Are you a flipped teacher? Easily add a video from YouTube, Vimeo, or your computer to your Stile lesson.
Do you teach Math? Stile offers graphing, table, and drawing options that you can easily add to your lesson.
Students can upload documents to the lesson assigned by the teacher. If you require your students to take notes while they actively view your flipped video, then this feature would be spectacular for you!
Here's a quick list of options for your interactive lesson.
Teachers can add:
text

great for directions or other written information

images
videos

AWESOME for flipped teachers…think about the possibilities for sub work?!

mind maps

Fantastic and incredibly simple to create!!

graphs
interactive canvas
tables
live polls
open responses
a side by side image/text box
draw picture option
I played around with Stile this morning, and was really amazed at the user-friendly features. Dragging and dropping…it really doesn't get much easier than that!
Check out some screenshots of my experience: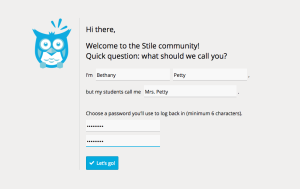 Signing up: One feature I really like about Stile, is the "but my students call me" blank. It's great to be able to sign up for a tool with your "real name," yet be able to determine what your students see.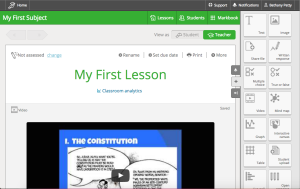 Creating lessons: Here's where the beauty of the drag and drop option comes into play. When you see a feature you like, simply click and drag where you would like it to be on the lesson. It's that simple! Easily move sections of your lesson as well, by simply dragging up or down.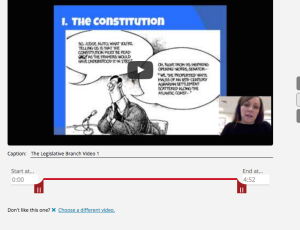 Video insertion and cropping: As a flipped teacher, this feature is indispensable for me. Do I get a little carried away at the beginning of the video? Do the students really need to see a specific section? I can easily trim my embedded video if need be.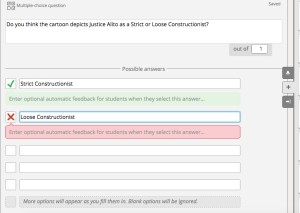 Multiple Choice and True/False questions: Drag and drop your question feature of choice and quickly insert or remove available responses.
Short Answers: When inserting a short answer question, teachers can choose from a variety of options (including math functions). Student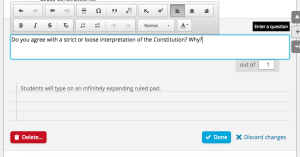 s respond to the question on a lined section, mimicking the look of paper…it even expands with the student's response AND provides a word count! The lined paper feature makes me so happy…I'm quite the nerd. But you already knew that 🙂
Class Analytics: Another great feature of Stile, teachers can easily view student progress on lessons. AND…when Stile is generating the analytics page, teachers see a great graphic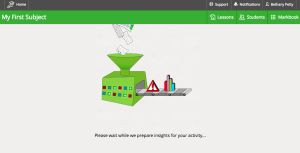 describing the process. It's the little things, friends 🙂
When students have completed a lesson, they simply select the send to teacher option and their teacher receives a notification about the assignment. Very similar to one of my favorite Google Classroom features 🙂
Stile work can be accessed on multiple devices, including via an iPad app. Students simply log in and continue working on their lesson.
Stile offers three different pricing options, *free*, *pro* ($20/mo) and *school,*… I tried out the free version and, as you can see, LOVED it. The free version allows teachers to create 15 lessons and enroll 100 students. This would be a great option if you're interested in giving Stile a try with your students!
Stile is REALLY neat. I hope you give it a try! Click here to access Stile's great tool!
Thanks for reading 🙂