As 2015 comes to a close, I'm excited to review some of my most popular educational technology posts with you!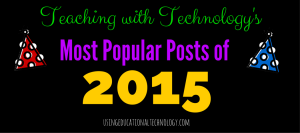 How to Add Backgrounds in Google Docs: A Workaround
Most people can appreciate how awesome the world of Google Drive actually is. However, the main complaint that I get about especially Google Docs, is that it is, well, just blah. After reading this great post from the Google Gooru about how to create an eBook from Google Slides, I decided to try it out on my own. Simply adjusting the size of the "slide" to 8.5 x 11 allows you to create a jazzed up document that may not be an actual Doc…but it works! I use this tool to create my printable planners and other images 🙂
Gamification in American GovernmentThis is one of the most exciting additions to my classroom this year. I always try to find and experiment with new strategies and tools…because I never want to feel that I'm completely evolved (is that weird?)…and gamification is one of the coolest strategies I've tried. A basic way to describe gamification is applying video game qualities to education..almost like a game version of a token economy. I was very skeptical about how this strategy would work in my classroom, but it has most definitely been a hit! Read my reflections from the first semester of my gamification experience here.
Google Classroom OR Schoology? Here's How I Use Both Effectively
Google made some absolutely fantastic additions to Classroom this year, which prompted many within the education community to ask whether or not traditional Learning Management Systems, such as Schoology, were still necessary in the classroom. My personal response was a resounding, YES! I love the organization and ease of Schoology, as well as the professional development component. Teachers can share and connect with educators all over the world through Schoology's "Groups" feature. Connecting with educators "in the trenches" is an invaluable resource that Google Classroom doesn't offer just yet.
Share to Google Classroom Extension
This post was EXTREMELY popular! Thanks for that 🙂 Share to Classroom is one of those ingeniously amazing additions that Google made to classroom this year. You can read about my classroom experiences with Classroom by clicking the link above, but here's a nutshell version: share any page with all of your students, instantly. It's that simple. Do you want all of your students to be on the same page, literally? Share the page with your class using this handy extension. Share to Classroom really extends the functionality of Google Classroom, and is something we use in my classroom daily. It's great!
Thank you so much for your support of my nerd blog! Be on the lookout for a giveaway soon!
Happy New Year and thanks for reading!