As a gamification novice, I will be the first to admit that I walked into Mission: American Government (the name of our "game"), I really wasn't sure how it would work out.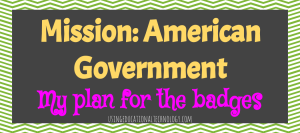 After establishing how students would earn XP and what tools they would be able to use at the various levels I'd created, I then turned to my PLN on Twitter to learn about badges in the world of gamification.
Thank goodness for my PLN! Through about 15 minute conversation in the twitter-verse, I began to revise my thinking on what the badges were and how they should be earned. In my first gamification experiment, I awarded badges to my students for reaching a certain XP level, and then they traded in those badges for a specific reward. However, I thought back to my younger days when I was a Girl Scout. We earned badges after completing a task … showing that we had grasped a concept. These badges were then displayed. We didn't trade in badges for any specific tool. These were proof of our success in a given area.
Let's call this my first "ah-ha" moment of my gamification journey. If you'd like to learn more about my gamification process, please check out my first semester reflections.
Back to the badges. When I introduced the "game," I surveyed my students, asking whether or not they would appreciate physical badges or digital badges.
The result was overwhelming in favor of physical badges. This really surprised me … we are talking about students who live in the digital age, after all!
As the tests were administrated and badges awarded (for scoring at least 80% on the first attempt), more and more students asked what they were supposed to do with the badges. Would they be worth something at the end of the year?
"It'll be a surprise!" I responded.
Honestly, I had no idea … until Monday of this week 😀
Here's my plan:
Each badge a student earned throughout the course of the year will be worth 75 XP. This will level up many of my students.
At the end of April, when XP has been updated, I plan to create a "hall of fame" to display on one of the bulletin boards in my classroom. Students with the highest XP (maybe the top 10?) will have their gamer tags and total XP displayed in this hall of fame.
Then, I will award 5% of each student's total XP as bonus points for the semester.
In my mind, students will have "won" if they pass the class.
How do you end your "game" in your gamified classroom?
Thanks for reading 🙂