Is it just me, or does anyone else feel as though they're being tugged in a ton of different directions at the end of the year? I'm ready for summer. I'm not as motivated as I was at the beginning of the year. I'm not ready for the end of the year because I've made great relationships with my students. I'm not ready for the end of the year because I feel like I still have so much to teach. I'm not ready for the end of the year because I HATE standardized testing season and all that comes with it with a fiery passion. I'm tired. I've learned about so many new and awesome tools and strategies that I want to use them all right now. Am I doing anything right? If this sounds like you, then you need to start Ditch That Textbook by Matt Miller right NOW and learn how to make booksnaps as you read it. Seriously – they're FUN and serve as a great active reading tool 🙂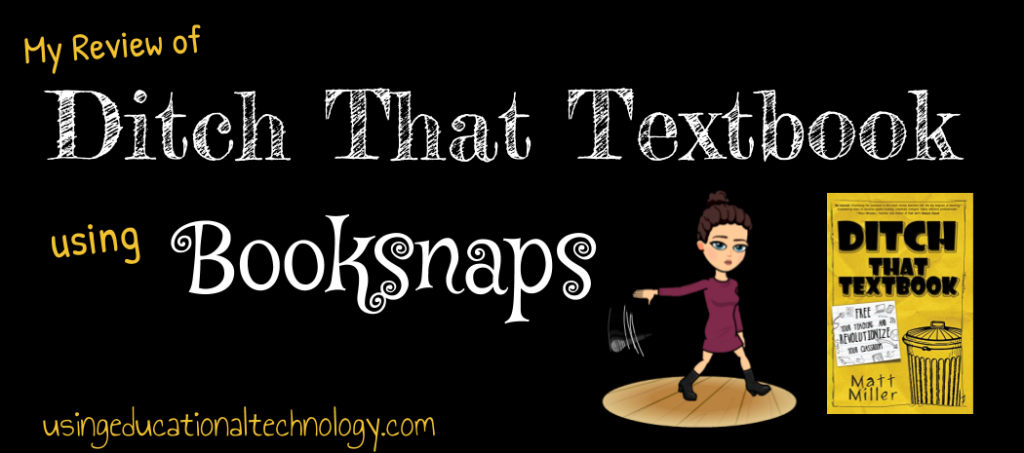 I'm going to be really honest … I didn't read Ditch That Textbook as soon as I should have because I didn't think the book was for me. There. I confessed. Sorry. And I really am SORRY that I didn't read this book the second it came out! Why didn't I think this book was for me? I only read the title … Ditch That Textbook … I already ditched my textbook. Why did I need to read this book?
IT'S NOT JUST ABOUT DITCHING A TEXTBOOK!! It's about getting rid of the rigid, neat rows of desks, teacher at the chalkboard, sage on the stage school environment. I can't even classify the environment I just described as a "learning" environment because is that really what we're establishing when we create a classroom this way? It's about freeing your classroom from "traditional" teaching strategies! Ditch That Textbook encourages teachers to jump out there and do something awesome for your students. I can't tell you how many "ah-ha" moments I had when I was reading Ditch That Textbook (affiliate). I felt challenged and validated and encouraged and excited at the same time. I was a lean-mean highlighting machine! Then I thought, "hey Bethany! Why don't you make some booksnaps for this fantastic book and share your thoughts visually with the world?"
Friends, that's exactly what I did!
Check out my booksnaps from Ditch That Textbook and take my advice! Read this book! It will encourage you not to just get through the final weeks of school, but to continue to strive to build the best learning environment for your students! In addition to the many "ah-ha" moments I had about creating awesomeness for my students, I also had lots of "ah-ha" teacher moments. Especially when Matt talks about wanting to do it all – yep, that hit home!
Here come the booksnaps!
Is this what panics teachers most about integrating technology?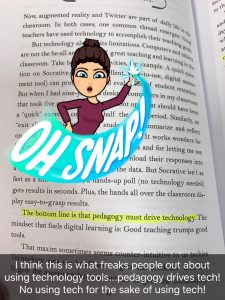 Oh my goodness … blogging is amazing! Reflect! Share! Just do it!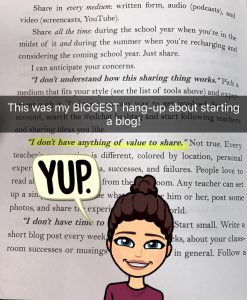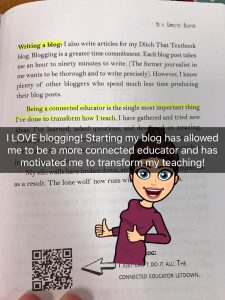 Have fun with your content! Break out of your comfort zone! Your students will most likely thank you for it!! Shed your shame, people!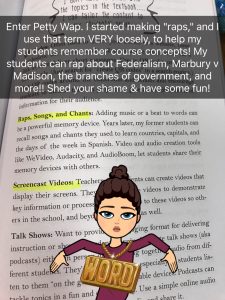 OWN your PD! You can find awesome PD and build amazing relationships!! Jump on Twitter or Pinterest or Facebook, oh my!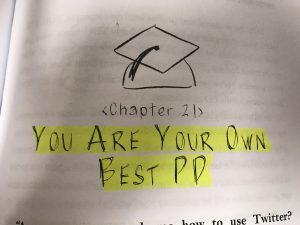 Use social media to make connections with other educators around the world! Then, use those relationships to build awesome lessons with global collaboration!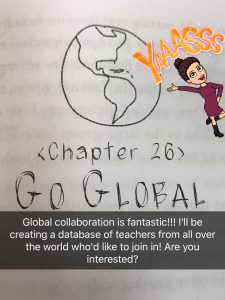 Here's a wonderful example of how Ditch That Textbook challenged me … new post on this, soon!
Holy moly. Yup … my perfectionist brain needed to hear this one 🙂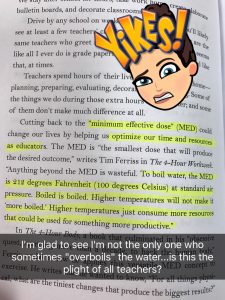 Really, though. Ditch That Textbook was EXACTLY what I needed to read … I just wish I had read it sooner! Also, how fun are these booksnaps?! If you're interested in learning more about booksnaps and using them in your classroom, check out the amazing Tara Martin's blog!
Thanks for reading this super long post 🙂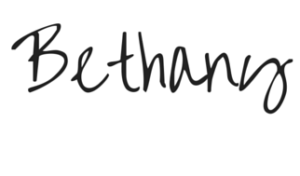 **This post contains affiliate links which means that if you click on a link and make a purchase, I may make a small commission. Thanks in advance! **