We're in EOC review season, folks! My least favorite time of the year! I'm quite sure that my students despise this time as well … not as much as their dear teacher … so I'm doing my best to jazz it up as much as possible. As I was planning out our review days, I was struggling to come up with a quick, effective way to teach economic systems. I typically teach economic systems toward the beginning of the course, but with the presidential election – it's kind of a big deal, so I adjusted my schedule – it was pushed off to the end this year. Hopefully, this will help the info "stick" better for my students! I had planned to basically lecture – which I don't do in my flipped Government class – to cover the economic systems quickly. I was mad at myself that I had allowed that to *almost* happen. So, last night at about 9:10 … I'm typically in bed by 9 … I thought to myself, "self, why don't you make a HyperDoc for this lesson?"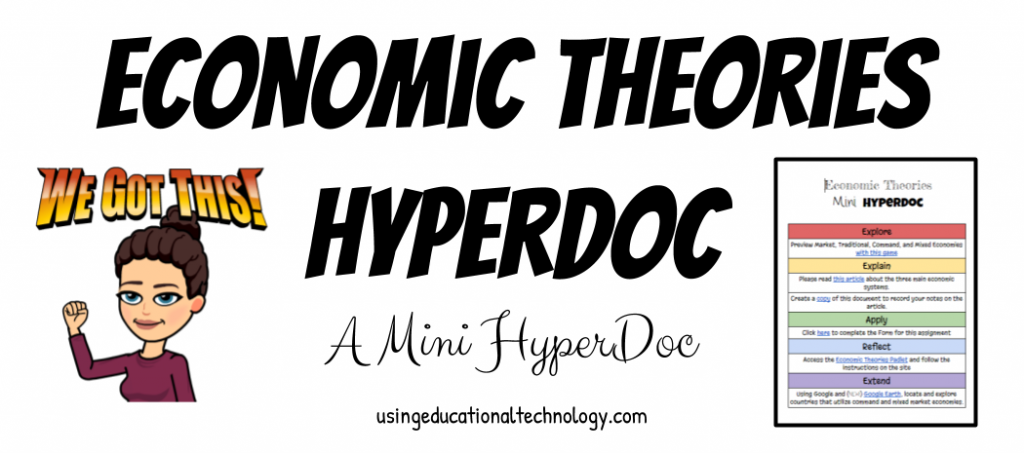 Cha-ching! That's exactly what I did. I grabbed my iPad, opened up my eBook version of The HyperDoc Handbook (affiliate), and flipped to the sample lesson templates. As I typically do when I create a HyperDoc, I smash together a few different templates and add or take out sections, I made my mini, or single lesson, HyperDoc using four basic parts: Explore, Explain, Apply, and Extend.
I probably could have added Reflect to that mix because of what my students did at the end of Apply… in fact, I'll do that!
Check out my Economic Theories HyperDoc here, and feel free to use it in your classroom!
I typically create instructional videos for the Explain section, but since I was ready for bed, I opted for a different Explain section – a great, concise article that would give my students the information they needed. I considered creating an instructional video without embedding the video of me talking, but decided against it. When I assigned this to my students today, I told them about almost making a video without me in it to see what they thought about it. Their response was overwhelmingly against such a video! Message received, students 🙂
Have you jumped on the HyperDoc train, yet?
Thanks for reading 🙂