Happy HUMPDAY friends! I'm coming to you live from … my oldest daughter's basketball practice!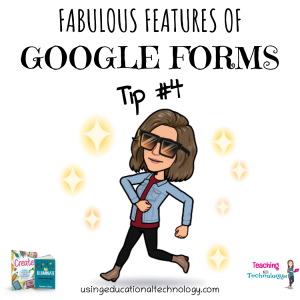 Yes, that's right! I lead a super-glamorous life! 😜 It's been a bit since my last post because life has been a tad on the hectic side! I know you understand! Next week, the online educational technology class that I teach for pre-service teachers starts, and the following week my specialist classes begin. I feel like I'm taking the last few deep breaths before the real nuttiness commences! I'm in the process of refreshing one of my favorite seminar presentations relating to Google Classroom and, in looking back through my notes, I realized one of my favorite features of Google Forms is often missed. What is it, you ask? Check your preferences!
That's right! No, I'm not talking about your settings wheel, but preferences!


When you open your preferences, you'll be able to establish a few settings or *ahem* preferences, that will "stick" to all of the forms that you create (in your Google Drive). One of these preferences is … AN ESTABLISHED POINT VALUE!
If you've taken advantage of the awesome quiz features in Google Forms, you've probably realized that you have to select the correct answer (duh) and enter a point value for each question. This can be a time-consuming process. However, if you select the "default quiz point value" option, you can enter the point value for each question on quizzes you make! Time saver!
Warning: setting the default point value will make EVERY QUESTION worth points! Even the name! So, you'll have to go back and delete the point value for questions such as name, class period, attempt, etc. OR you can always deal with the "ummm, how'd I get my name wrong on this?!!" or my favorite, "sweet! I got three points for my name!"  🤦🏻‍♀️
I hope this tip is helpful and that you're having a fabulous week!
Thanks for reading 🙂