I. Am. DRAGGING. Please tell me I'm not the only teacher who feels like they're in the last tenth of a mile in a 5k? You, know … when you're running and you just have to hit that goal and you won't stop to walk or take a breath because that'd be cheating? Yup, that's where I am in the year. We're reviewing for EOC testing which I, like basically every other teacher who has taught EVER, hates with a fiery passion. It's not that I hate assessments … I actually like assessing my students, and do so frequently. I want to improve my instruction. I want to know what they know and what they need to work on. However, I just hate the idea of assessing all of my students exactly the same way in a high-stakes environment. Boo.
Ok … enough griping and complaining for today! As I've shared before, I gamify my American Government classes. I experimented with gamification two years ago at this time in the school year because I was looking for a way to encourage and motivate them to finish the last tenth of a mile of their 5k, I mean school year 🙂
I had ZERO experience with gaming and concepts of gaming, unless you count Super Mario Brothers in the 90s …THAT was a video game, my friends! To supplement my lack of knowledge, I turned to my wonderful PLN via Twitter.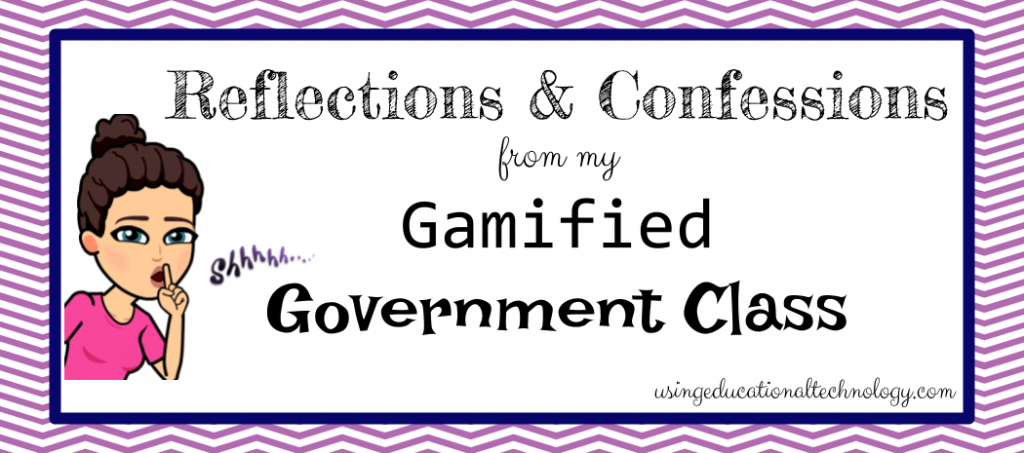 Last school year, I figured out my XP and badging system and how they were related … and how they weren't. This year, I added more levels to the "game" and became much more generous with XP. The result? The students loved it!
However, I dropped the ball BIG TIME when it came to awarding badges for students who scored at least an 80% on the unit assessment on their first attempt. Like, I really think I've passed out two badges this year, and we've had a few more than two assessments. I will DEFINITELY pass out the badges for students before the end of the year, because I think that's a big deal. I'm also thinking of having them post their badges on a leaderboard … more to come on that soon.
So … how have my students responded to their teachers' badging blunder? They haven't said A THING! They just want to know how much XP they have and when they're going to level up! I have two students who are competing to see who can reach the final level first…it's fabulous!
After EOCs are finished, I will award students who score Proficient or Advanced on the test the "Master" badge, indicating that they've "mastered" the game.
Check out my gamification plan and mhere.
Do you gamify your classroom? Let me know in the comments!
Thanks for reading 🙂