Hello, and happy Friday! When I opened Google Classroom today, I wasn't expecting anything special. But – that's typically how things go with Google and their updates to Classroom. You open the site and get ready to share announcements or post an assignment and ~BAM!~ Google tosses an early Christmas present your way, and it makes your day!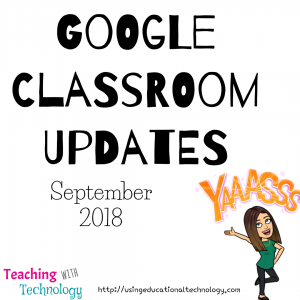 Google recently unveiled a new and improved Classroom. It's much cleaner – easier for teachers and students to navigate with a separate section for announcements and assignments.
However, many teachers, myself included, desperately missed the traditional "About" section of Classroom. While "About" is still available on the updated version of Classroom, it doesn't offer the ability for teachers to post content.
NOW … teachers can add "Materials" to the classwork section of Classroom AND, using topics, post the materials with other assignments for each unit. WOOHOO!
The newest update also provides teachers with the option to add a classwork stream to any Classroom sections they created prior to the recent changes.
Thanks for reading 🙂