Hello, all! I hope you're having a fantastic week and are experiencing weather with fewer mood swings than we are in Missouri. Holy moly. My Mom and I went to a conference Tuesday and drove through rain, sleet, brief snow showers, and endured whipping wind. Today, the sun is shining and we are expecting highs in the 50s. Seriously, Missouri. Seriously. Speaking of Tuesday, I have to quickly share with you a story of how a Chrome extension saved my presentation — it was almost a catastrophe!
I've been fortunate enough over the last few years to attend the METC conference. This is the largest EdTech conference in the state of Missouri and hosts a variety of awesome national and local speakers. I ALWAYS walk away from this conference with something I can use in my classroom. It's absolutely fantastic. I love sharing my experiences, learning from other teachers, meeting people in my PLN in real life, and connecting with other teachers. This year, my mom even came with me which was super fun! Check out my IG stories to see pics!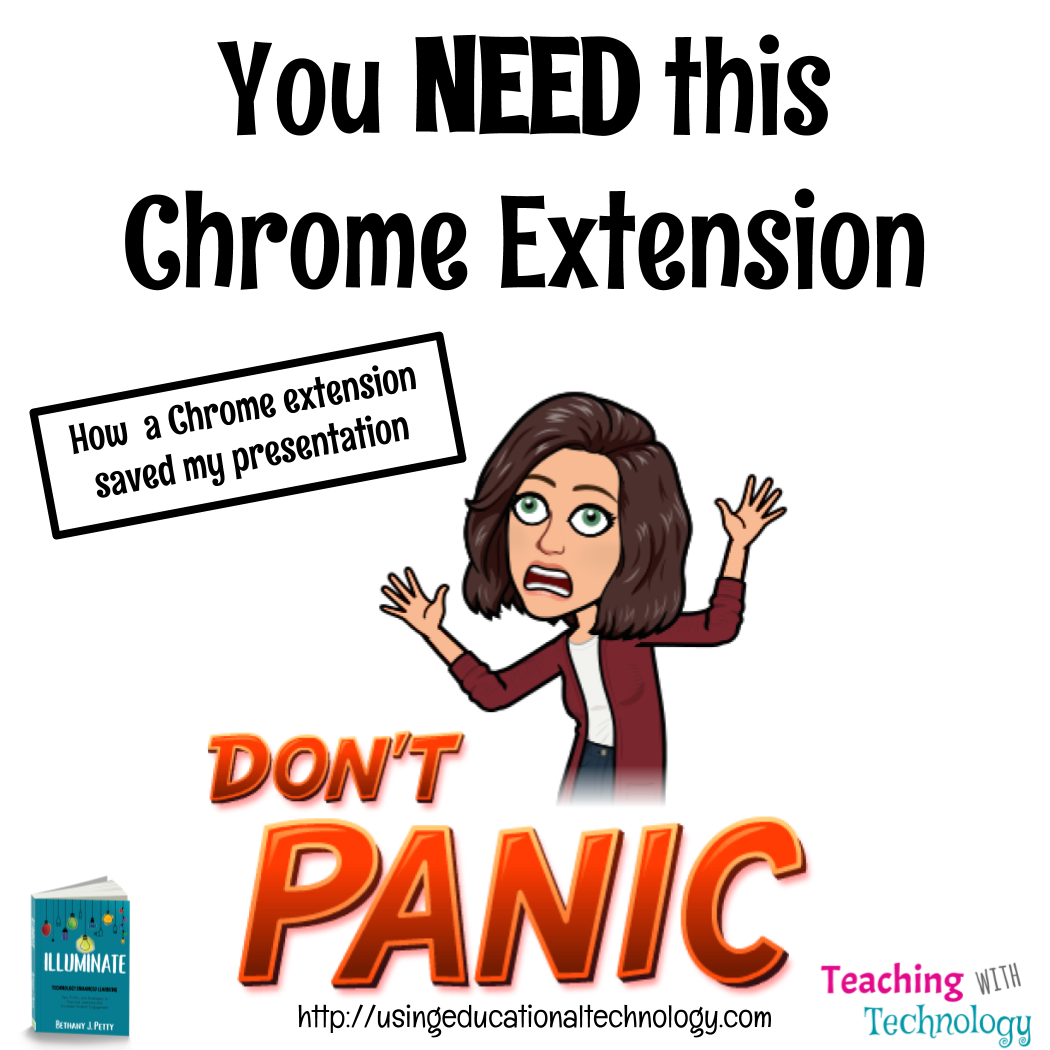 During the meet and greet session at the end of the conference yesterday, I was able to deliver an Ignite speech about using Global Collaborations to encourage empathy. If you've never heard of an Ignite session – don't worry, I hadn't either! – these are basically five-minute power speeches in which the presenter delivers a topic using 20 slides to empower, inspire, and, well, ingnite their audience. I found out, along with my audience, that I cannot talk for only five minutes about global collaborations and empathy in the classroom. Heck, I'm a Social Studies teacher, I can't talk for only five minutes about anything! Ha!
Of course, when I was preparing to present, my dongle wouldn't allow my laptop to connect to the projector. Fortunately, the presenter before me offered to let me use her laptop to deliver my presentation. Total life saver! However, my presentation was in my Google Drive and I had to start QUICKLY! No time to log into my Drive or my Chrome browser! What, oh what, was I to do with a room full of people staring at me?!
Enter my bit.ly Chrome extension!
I opened my presentation quickly on my computer, clicked the bit.ly extension, customized the address, and VOILA! I quickly accessed my presentation, delivered it, and received a round of applause from the audience.
Thank you, bit.ly extension! What Chrome extensions are a must for you?
Thanks for reading 🙂