I love opening Google Classroom to find that Google has added MORE fabulous features to one of my favorite programs!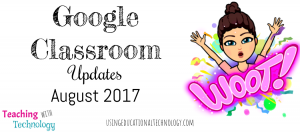 This post from the Google Classroom blog lists a number of new features that launched today. However, my FAVORITE features are the ability to …
view a list of individual student work. By simply selecting a student's name, teachers can not only see a list of the work that was assigned and the status of that work. Teachers can also email students and their parents/guardians directly from this page! 
enlarge the class code to display. This will prevent me from having to enlarge my Chrome browser to 200% or constantly repeat the class code while my students are joining their Classroom section!
to reorder class cards on the Classroom homepage. This is a welcome addition to Classroom, especially if you're like me and you like to have your classes displayed in the order you see the students during the day!
Teachers can also transfer ownership of Classroom sections and award partial points for student assignments!
I LOVE opening Google Classroom and noticing new features! It's like Christmas morning, Google Classroom edition!
On another note, I'm hard at work on my new book, Using IT. My goal is to be finished writing before school begins … in about 3 weeks … and for it to be published early next year!
Be sure to join this mailing list to receive updates from my book!
Thanks for reading 🙂