This is a sponsored post. You know I don't share anything with you unless I love it!
Hello, friends! I'm sharing two fantastic technology resources with you today that you can use with your students that can help everyone get more out of their devices: my friends at Logitech sent me the Logitech Crayon and Logitech Pen. Get excited … these things are amazing!
First up on the review list is the Logitech Pen and I'll be sharing my experience with you from my perspective as a teacher!
I was fortunate to be able to explore the Logitech Pen which happens to be PERFECT for Chromebooks! In the classroom, I've been a touchscreen Chromebook user for many years, but I haven't found a stylus that I feel comfortable using AND glides across my screen like my favorite flair pen on a piece of paper. Enter the Logitech Pen! Just like its counterpart, the Logitech Crayon, the Pen requires no pairing, no software download, no calibration … nothing! Just charge the Pen and you're ready to go. I love that I can open a lesson using many of my favorite tools, grab the Pen, annotate, draw, write notes, and share whatever I need with my students. The Logitech Pen meets my "technology tools must be easy to use so they can enhance learning, not distract from it" which makes this teacher happy!
Next to review … the Logitech Crayon! My review of this tool comes from my most important perspective … that of a mom!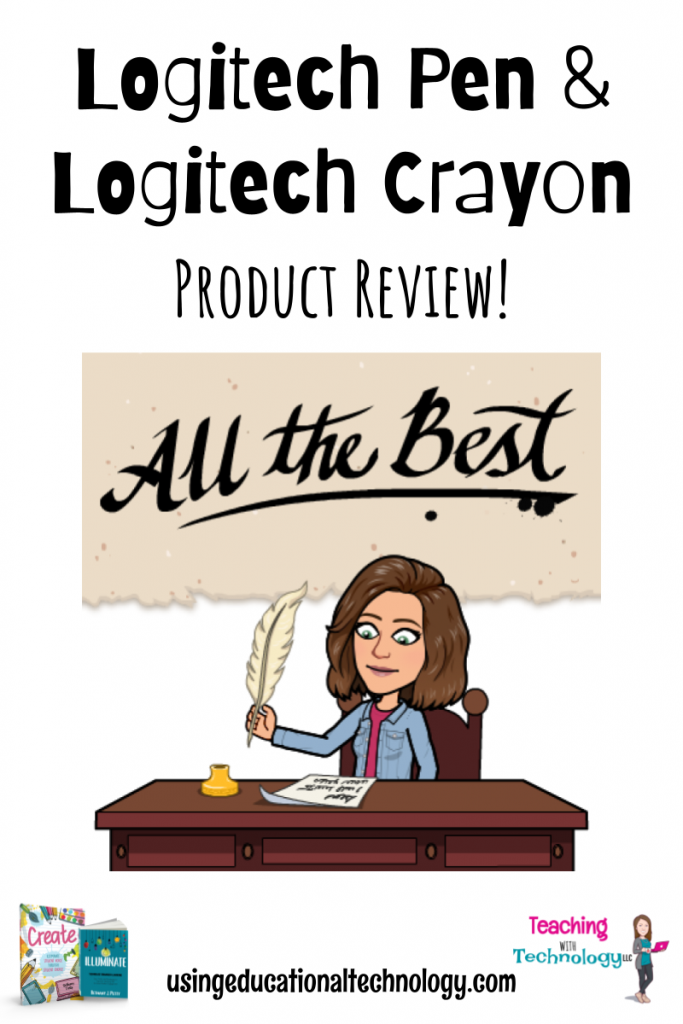 My youngest daughter is 10 years old and LOVES her iPad. Like many youngsters her age, she spends a great deal of her time on YouTube, either catching up on the antics of her favorite YouTube family or checking out the newest ideas for Toca Boca Life. However, she recently started to show interest in using her iPad as a creation device instead of only for consumption. She saw a commercial on tv one afternoon over the summer (my kids call television commercials "ads" … please tell me I'm not alone!) for a drawing app and was immediately asking for "a pencil" for her iPad. My first impression of the Logitech Crayon was, "wow, this is easy to use!" because it requires NO PAIRING. This is a huge benefit for users! As a mom, I love this feature because there's no wait time between turning on the Crayon and using the tool. As a teacher, I love this feature … well … for the same reason! If you've followed my blog (thanks!) you know that one of my top rules for using classroom technology is that it is EASY to use. If we have to shift our focus to pairing or calibrating a device before we can even use it, the device takes over the lesson instead of being used to enhance learning. The Logitech Crayon definitely meets that criteria!
These writing tools are so easy to use and can definitely help teachers and students get more out of their classroom technology!
Have you used these products? If so, I'd love to hear your thoughts!
Thanks for reading 🙂
Bethany
I was compensated for this post. I only share products I love!