Happy Sunday, friends! I know it's been quite a bit since my last post … but I'm still here! My family and I are adjusting to our busy schedule, learning to juggle dance, sports, volunteering, and middle school (how am I old enough to have a middle schooler?!) with family time. It's been a challenge for sure! To start the week on a high note, I'm sharing a few ideas for using one of my most favorite components of Google Classroom – the Question feature! Do you use it?!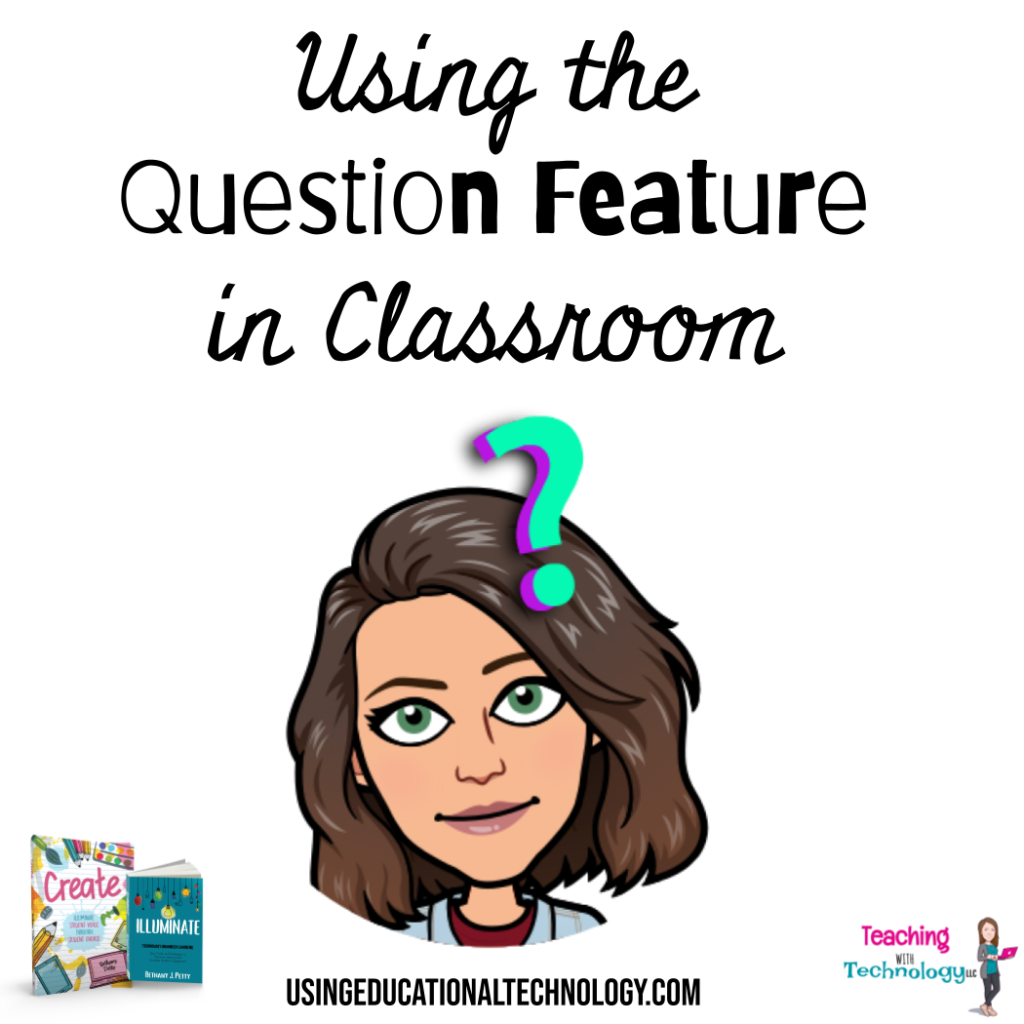 When I present about the endless uses of Google Classroom, I find myself spending a lot of time on using the question feature. Many teachers I meet stick to the Assignment component and the "make a copy for each student" feature. Don't get me wrong, this is a fantastic option and one that I use frequently. However, when evaluating student responses to discussion board questions, providing feedback on primary source analysis, gathering evidence of student learning through entrance/exit tickets, and reading student "check-ins" for the day, I find that using the question feature is JUST SO EASY!
Creating a question is as quick and easy, if not quicker and easier than creating an assignment in Classroom. Simply head over to Classwork, click "Create," and select question instead of Assignment.

Next, you'll choose which type of question to use – short answer or multiple choice.
If you choose the short answer option, you'll be able to determine whether or not students can edit their response and if they can respond to their peers. If my students are completing a discussion forum-type question, I allow them to reply to each other but I leave the "students can edit answer" box unchecked. I don't do this to prevent them from revising answers … instead, I unselect this box to prevent cheating! Not that any student (or their teacher when they were taking an online class for that matter 🤪) would look at a classmate's response and then craft their submission based on what their classmate said. Never ever, right?
Just as you would with creating an assignment, you can determine the point value, due date, and topic, as well as whether or not you would like to schedule the post or assign it to multiple classes. The only component missing is the rubric — you can easily add a premade rubric to the question as an attachment.
Next, click "ask" and you're ready to roll!
My absolute favorite way to use the question feature is to ask multiple questions about a primary source, article, video, etc. Grading responses in the question feature is much easier and quicker than grading student responses on a Google Doc. All of the responses are in one place (the student responses area) and you don't have to open a different tab!
The downside to grading in the question feature is that you won't be able to add editing or grammatical suggestions as you would on a document.
Looking for ideas on how to use the question feature? Here are a few of my favorites!
⭐️ Stoplight Exit Tickets — use colored emoji circles (with an extension like Joy Pixels) to create a stoplight activity using the multiple-choice question option
⭐️ Discussion Board — provide students with a primary source, current article, or other reading and ask reflective questions that encourage students to think about the reading, formulate a response, and then discuss their ideas with their peers
⭐️ Daily SEL Check-In — ask students how you can support them with a short answer question option
⭐️ Bellringers — create a question that includes a link to an article or YouTube video for your students to view and respond to a question before you begin your lesson
The possibilities are endless! AND … don't forget the "reuse post" option so you don't have to reinvent the assignment each time you share it!
How do you use the question feature? Let me know!
Thanks for reading 🙂