I was given a Rocketbook Wave, Everlast, Color, and pens in exchange for this post. 
It's a snow day!! Kind of … we had some icing overnight, but it's currently almost 40 degrees which makes traveling to Panera for lunch quite safe 🙂 No complaints here! Over Christmas break, my daughters and I had the pleasure of reviewing two great products from the kind people at Rocketbook – the Rocketbook Everlast and the Rocketbook Color. These things are ah-mazing!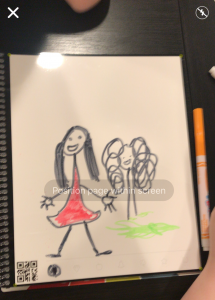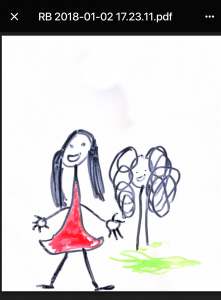 My daughters love helping me review products and took great pride in drawing their artwork in "Mommy's books." They were absolutely amazed to see the writing on the page disappear with a damp paper towel! I hope they don't attempt to draw on anything else and assume it will wash away with water!
In case you're unfamiliar with this fabulous product, here's a quick rundown:
Rocketbook notebooks allow anyone to write on a notebook page, upload their work to a cloud storage system through the product app, and erase their writing revealing a clean page. Last year, I reviewed the Rocketbook Wave (check out my review here) and was blown away with the fact that I could erase writing done in pen just by sticking the notebook and a mug of water in the microwave!
The Rocketbook Everlast and Color are even more impressive. I can write, again using a pen (Frixion erasable pens that come with the Rocketbook), upload my work to any Google Drive folder, then erase the page with a damp towel and write again. The Rocketbook Color works with Crayola dry erase markers and works as a mini, portable whiteboard that, once again, allows me to quickly upload my work, erase with a damp towel, and write again!
I've shown the Rocketbook Everlast to my students, and many are begging to get one of their own or at least a classroom set to keep in our room. Many students prefer to take notes by hand or draw out their notes/thoughts, and the Rocketbooks offer them a fabulous alternative to pencil and paper!
Thanks for reading 🙂