Happy Wednesday, friends! Missouri weather cracks me up – last week at this time, we were in the middle of a polar vortex takeover and were dealing with actual temperatures of 0 and wind chills of -15. Monday, the high temperature was 70 degrees. 70 DEGREES! We went from multiple layers, gloves, and hats to shorts and t-shirts in a matter of days! Holy moly! Last week, I shared the exciting news of our social media book study with my email subscribers, and I realized this morning that I haven't shared it with you on my blog! OOOPS!
When I've hosted book studies in the past, I have so much fun. I love connecting with educators from all over the world and talking about how we can intentionally use technology in the classroom to enhance learning. It just makes me happy! I feel like I'm at the most amazing digital edcamp or education conference and it's just SO MUCH FUN!
However, sometimes I feel like I'm missing the voices of many educators who would be awesome participants because of the social media platform on which I host the study. Some teachers are Facebook only people, while others stick to Pinterest. Some teachers love Twitter (like me!) while others don't use it at all. Teachers from all over the world are jumping on Instagram and sharing so much from their lives using #teachersfollowteachers or #teachersofinstagram. It's fantastic!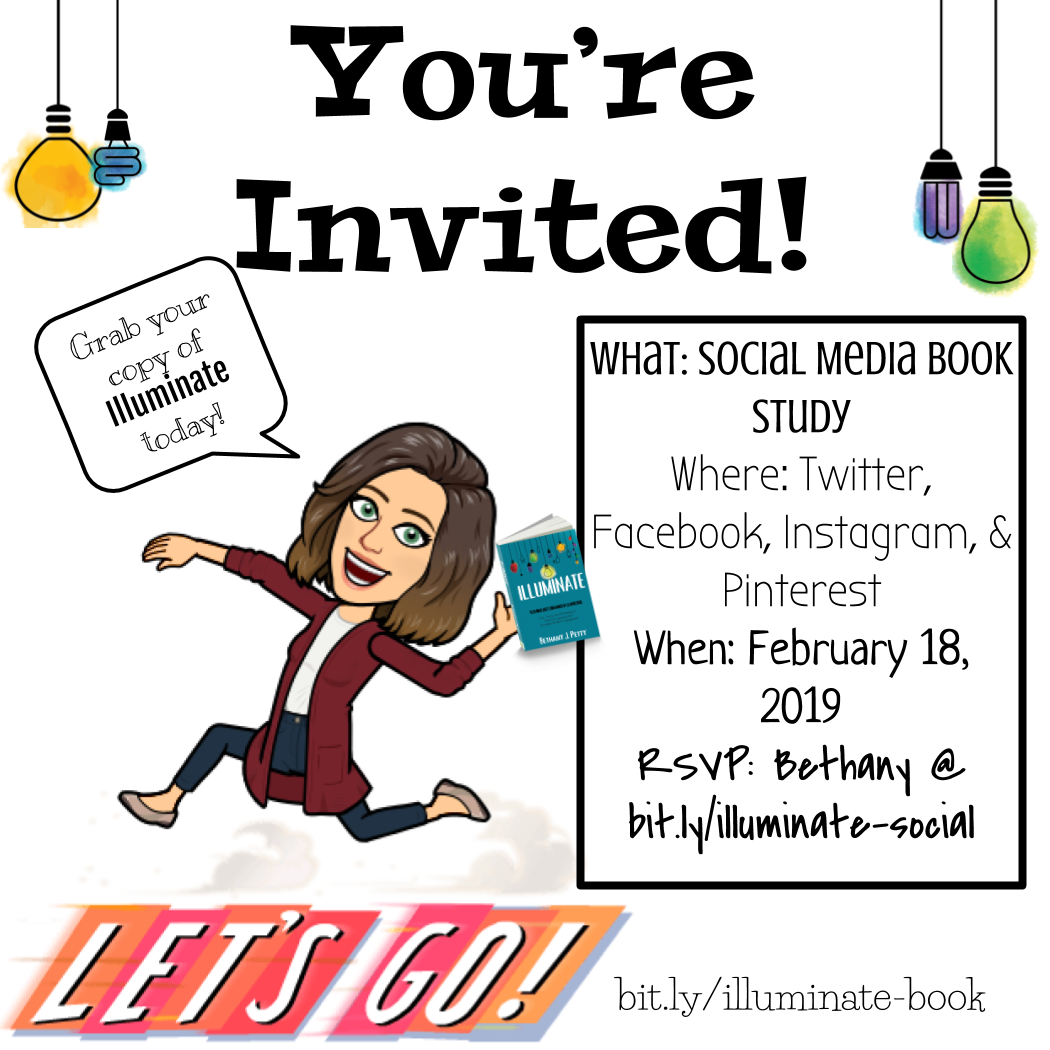 My goal with this social media book study is to meet each of you where you are. Every day starting on February 18, I'll post a question/topic/concept from Illuminate or about education in general to ALL of my social media channels, including Facebook, Twitter, Instagram, Pinterest, and LinkedIn. Respond and share on your platform of choice. Every few days (I would say each day, but I don't know if I can commit to that with my daughter's traveling soccer practice starting up again!) I'll create and share a collage of all of the fantastic contributions from the amazing educators who'll join our fun!
Be sure to follow my social media channels
Facebook –> http://facebook.com/usingedtech
Twitter –> @Bethany_Petty
Instagram –> @bethanypetty_educ8
Pinterest –> http://pinterest.com/bethany133
LinkedIn –> https://www.linkedin.com/in/bethanypetty/
I'm excited to learn and share with each of you! Please, spread the word to other educators you may know, too! Don't forget to grab a copy of Illuminate before the book study starts on Monday, February 18. I. Am. PUMPED!
Thanks for reading 🙂