*This is a sponsored post, which means I was compensated, either monetarily or through product access, to write this post. All thoughts included in this post are my own!*
Have you or your students ever googled a question or concept and been led to a Study.com page? I have, and before researching and writing this post, I thought, "hmm, this looks like a good resource," but never explored it any further. Big mistake, Bethany! Study.com provides a full curriculum for a variety of subjects including History, Science, Math, and more, with courses that are created by content experts.
To get started with Study.com, create an account by selecting "sign up," and choose your role from the drop-down menu. Next, you'll be asked to choose your goal in using Study.com and then to enter your email address. By signing up for an account, you'll be given a free 5 day trial of the teacher account. I'll share a code with you for 20% off, too 🙂
From the teacher dashboard, users can create and monitor classrooms, either by importing your classes from Google Classroom (I LOVE this feature!) or by creating classrooms through Study.com. If you import students, they will receive an email invitation they will need to accept in order to access the course.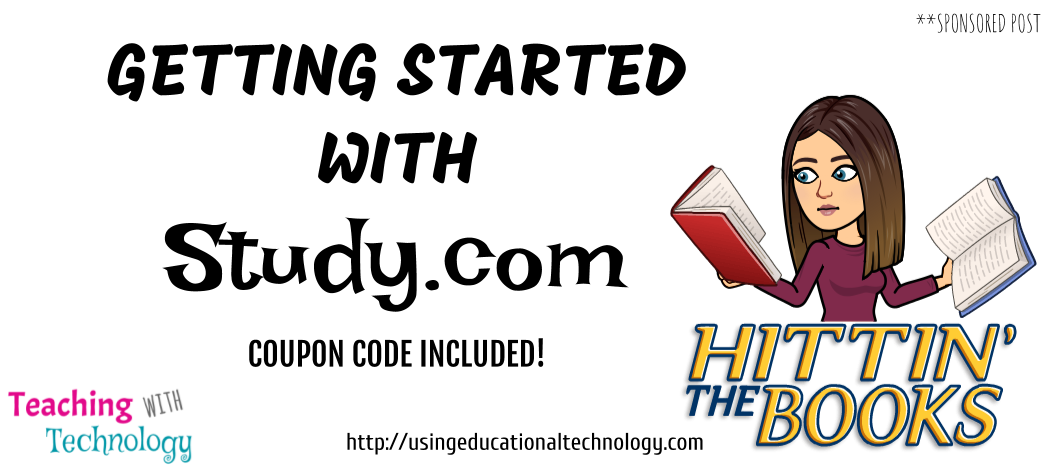 Next, you'll be able to share assignments with your classes by searching the thousands of lessons available on Study.com. Teachers can search for specific lessons or entire courses to share with their students. These lessons include an instructional video and quiz that teachers can assign to their students directly from the lesson page (no need to navigate back and forth or between multiple windows). Teachers can also view the course the lesson comes from, again all from the same screen, and can print the resources and quizzes from their lesson.
While viewing instructional videos, students can take notes within Study.com and navigate between the current lesson and others within the course.
Study.com also provides students with a wealth of resources covering topics such as study skills, applying for scholarships, getting into college, ACT/SAT Prep, job projections, creating resumes, landing a job, and so much more! Teachers can also use this great resource for professional development, studying for certification exams, to brush up on content, or to learn something new!
Everyone can find something to learn at Study.com! If you're interested in using Study.com resources to supplement your students' learning, flip your classroom, or to encourage your students (or you!) to learn something new, be sure to use the code TeachingWithTech18 to receive 20% off of the membership fee for the first three months! (This coupon code must be used before 9/1/2018)
How do you use Study.com resources?
Thanks for reading 🙂