Happy Friday, all! I'm home today with two sick kiddos – pneumonia is no joke! While they're napping, I'm making some updates to my blog, and I realized that I haven't shared with you the newest update to Google Classroom!!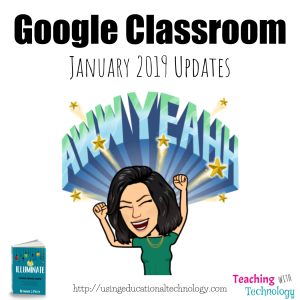 When Google unveiled topics in Classroom and more of the "folder" design on the Stream, I was totally pumped! UNTIL I realized that the newest items added in Classroom were sent to the bottom of the Stream AND, in order to move the content to the top of the page, I had to click "Move to Top" until the assignment arrived at the desired destination. THIS DROVE ME CRAZY – CRAZY, I tell you! At least once a week I clicked on the feedback button on Classroom and kindly requested the ability to "close" the topics, similar to how you can open a folder to see the contents and then close the folder, or at least be able to drag contents around on the Stream without having to click "Move to Top" until my eyes crossed.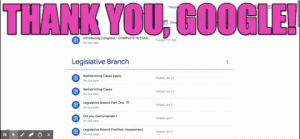 Our prayers were answered, folks! Check out this GIF for a visual!
To circumvent the issue that was caused by new assignments automatically being posted to the bottom of the Classwork page, my students started using the Stream page as like a notification page and located assignments from that page. Did your students do something like this?
I am SUPER excited about this new feature in Classroom and can't wait to see what they add next!
On a side note — did you know I started a podcast?! Be sure to check out Try This Tomorrow on Anchor, Stitcher, Google Podcasts, and SOON Apple Podcasts. You can also find all of the episodes – only one so far! – right here on Teaching with Technology!
Thanks for reading 🙂