Good morning, all! Happy Wednesday! I'm coming to you today from my kitchen table – no, I'm not sick and neither are my kids! Today, I'm fortunate enough to present a seminar to amazing teachers on the West Coast about how they can use Google Classroom (and other awesome tools) to strengthen their Social Studies instruction. Even though I'm presenting my presentation from the comfort of my office in our basement (hello, comfy leggings!) the conference time zone is Pacific, and I'm in Central. So … I'm enjoying some much needed "me time" while I'm waiting for the seminar to begin. One of the many topics I'm sharing with participants today is how you can customize your Google Classroom sections. I figured I'd share some tips with all of you, too!
CUSTOM HEADER
Creating customized Google Classroom headers really isn't a "new" thing, but the way teachers have customized Classroom headers over the last few months is definitely amazing! In order to draw attention to specific items in Classroom, such as "check Classwork for your assignments & activities!" teachers have customized headers to include a virtual dry-erase board. This, coupled with a neat picture (mine is of the ocean) and a Bitmoji (of course!), teachers are able to direct students to assignments and activities, remind students and their guardians of important items, and more just through a custom header. Click here if you'd like to use my template to customize a header for your students!

EMOJIS
I wonder if future historians will look back on our current use of emojis and compare them to ancient hieroglyphics? Hmmm … Regardless, emojis have most definitely become part of our vocabulary when we communicate, whether through text message, social media post, or … items on Classroom! Yes! Teachers can use great emoji sites and extensions, such as this one, to draw attention to specific topics/assignments/questions/materials so their students can easily reference these resources. To add the emojis into Classroom (topics, assignments, etc.,) simply copy the emoji and paste it into Classroom. That's it!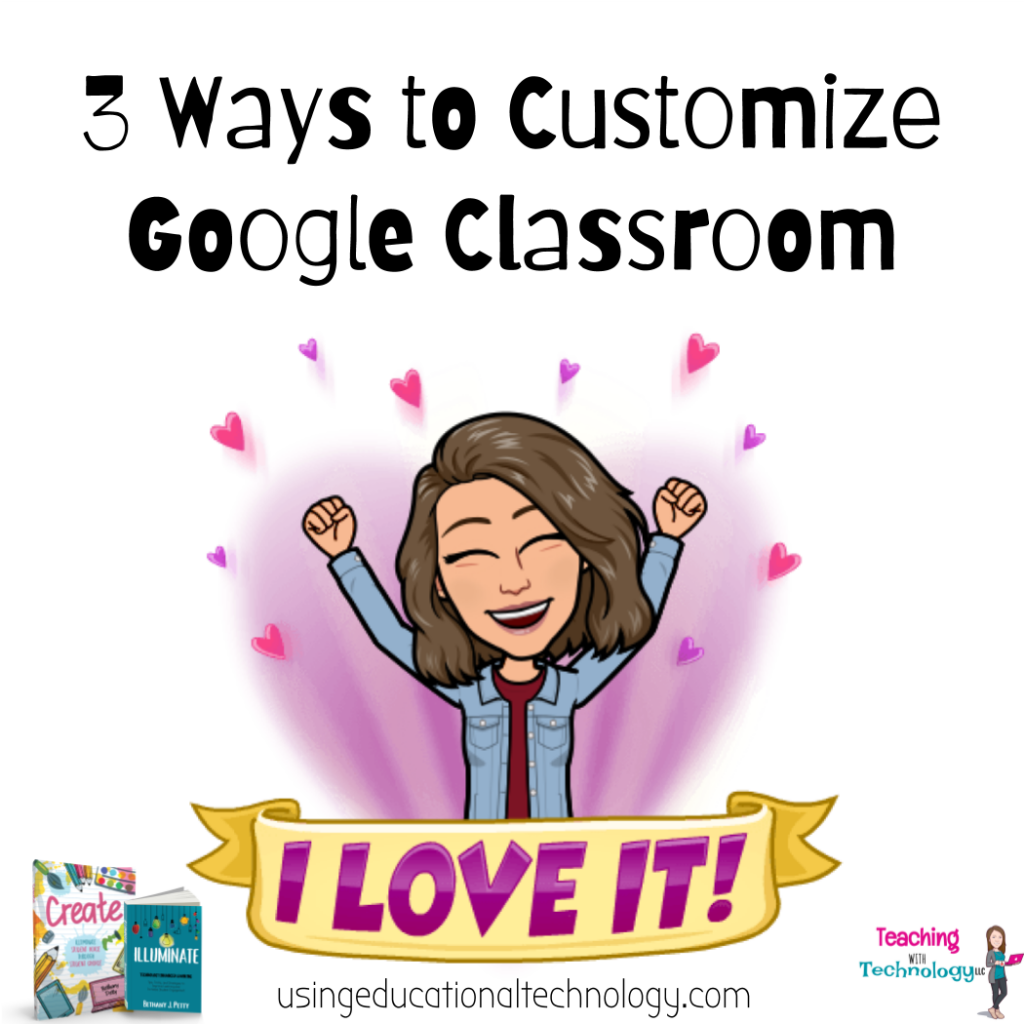 FUN FONTS
I've been experimenting with this all morning – Google Classroom is awesome, but I'm a fan of mixing things up when it comes to fonts. Call me crazy, but a good font can bring a smile to my face. One of the only things I don't love about Classroom is that I can't customize my fonts. Come on, Google! If you'd like to customize your font on your topics, assignments, etc., on Classroom, check out one of these resources. When updating fonts, be sure to copy and paste directly into Classroom. That's it!
What are your favorite ways to customize Google Classroom? Let me know!
Thanks for reading 🙂