Happy Saturday, friends! I'm coming to you from my second cup of coffee and after my 25th Miracle Morning! I know I've said that I'll share my thoughts on it, and I will, but I'm trying to tread water right now! I know you all know exactly how I feel. Trying to balance work, school, family, and taking care of my mental and physical health is no small feat! Fortunately, we were off yesterday which was a great break. I took TWO NAPS. Before heading to my youngest daughter's basketball game, I wanted to share a quick tip with you, in case you're like me and really missing the Google Cast for Education extension, or don't have a wireless way (say that three times fast!) to project your iPad to your smartboard/whiteboard.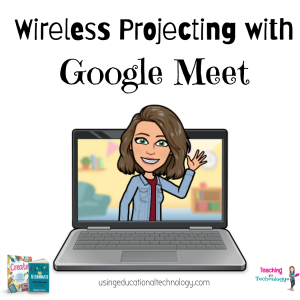 First of all, please tell me I wasn't alone in having an ABSOLUTE MELTDOWN this summer when I read the email from Google saying that they were discontinuing the Share to Classroom and Google Cast for Education extensions? I used the Share to Classroom extension every single day. It was an amazing resource for sharing information directly with my students, even if we weren't in the same room. While I used the Google Cast for Education less frequently, it provided an easy way to easily project any device directly to my smartboard, which is connected to my desktop.
Ok, enough venting. Back to the tip!
If you would like to cast a device to your projector, try using Google Meet. Sounds weird, right? Google Meet is a video conferencing tool! Yes, but … through that video conferencing tool, you can share your screen! Here's how it works:
Open a Google Meet on your desktop computer. Either invite yourself to the Meet through email, or give the Meet a nickname.
Open Google Meet on your more portable device – for me, this is my iPad. Then, join the Meet you created on your desktop with either the nickname or by the email invitation.
MUTE YOURSELF ON YOUR PORTABLE DEVICE. Yup, that's a huge tip. Otherwise, you'll hear a super annoying echo. Also, you'll want to make sure you're away from your desktop to, once again, avoid that super annoying echo.
Share your screen – if you're using an iPad like me, then you'll be able to start the broadcast (dialogue box pops up with this option on your iPad) and start presenting your screen. WARNING – this will present everything on your iPad screen!
That's it! When you're ready to yield the screen back to your other device, just click stop broadcasting/sharing.
Wouldn't it be easier if Google didn't take away Google Cast for Education? UGH
I hope this helps!
Thanks for reading 🙂