Happy Friday, friends! I'm coming to you today from as I take advantage of my last day off before school starts on Monday, and while I'm sad to see our summer vacation come to an end, brainstorming new activities and buying a new coffee mug are helping with my motivation to head back to my classroom 🤣 If you're still looking for the first days of school activities that DON'T involve going over the syllabus, check out these suggestions!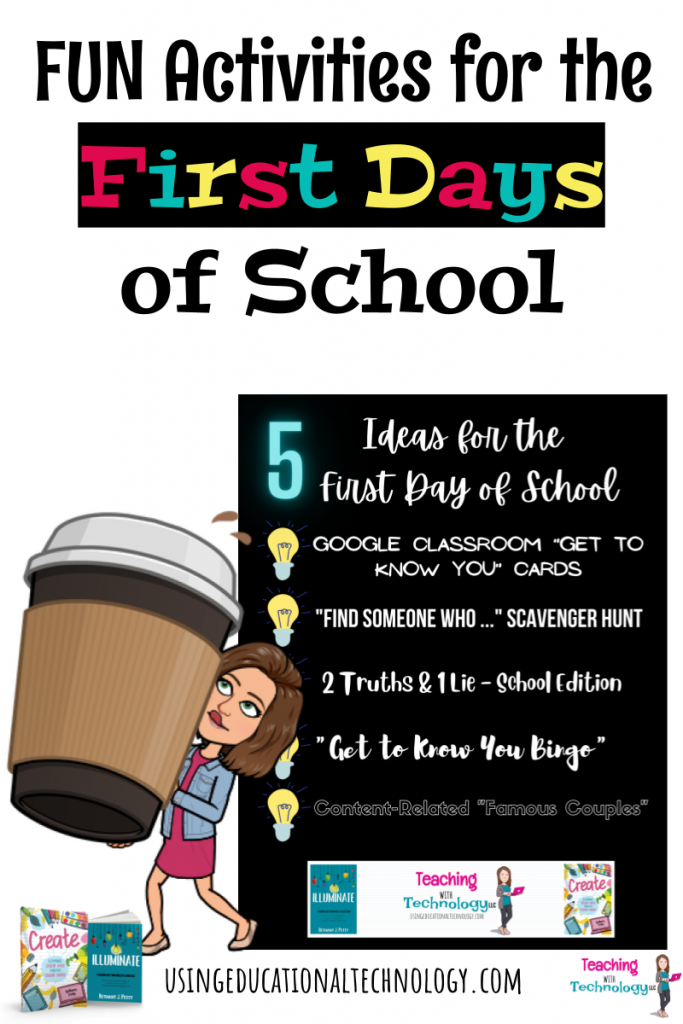 Find someone who …
This has been my go-to first-day activity for the last few years, and it's worked so well! I create QR Codes of questions, then print and place them around the classroom. I encourage my students to work with a partner or peers at their table as they walk around the room with their Chromebook and a piece of paper (you could also use a Google Form), scan the QR Codes and interview their peers in order to "find someone who…" meets the requirements. This activity is great if you hope to have your students up and moving around your classroom while getting to know them on the first day of school!
Two truths and a lie – school edition
Ok, this could be REALLY fun for any age group! Simply create a Question on Google Classroom and include the following:
List two facts about yourself and one SCHOOL APPROPRIATE piece of information that is false. Be sneaky enough to trip up your best friend!

Be sure to turn OFF the ability for students to respond to their classmates' posts so the game isn't spoiled! When all of your students have submitted their responses, read the student's name and their three statements. Then, have their peers guess the lie! If you're not a Google Classroom user, you could easily use this strategy with Padlet, Nearpod, or another collaborative platform.
Get-to-know-you BINGO
This is another one of my favorite beginning of the year activities! Create a Bingo board by making a copy of this template or using a tool like Flippity. Fill your board with fun statements such as, "I love orange juice" or "I'm an early bird." Not only will this help you get to know your students, but it will also give you the chance to share fun facts about yourself. I love starting the year with this type of activity because it really helps me create a positive classroom climate and begin forging important relationships with my students.
Famous content-related couples
We typically use the "content-couples" activity for review days as a fun way to revisit unit vocabulary or important events. However, this could be super fun for the first few days of school! Using a Google Slides presentation, simply add a content term on one slide and a definition/description on another slide – enough for each student in your class. Then, print the slides (I normally use the 6 slides per page print option), shuffle, and pass them to your students. Once a student has found their match, encourage them to help their peers!
What are your favorite back-to-school activities?
Thanks for reading 🙂