Hey, all! I hope you're having a great weekend and squeezing the last ounces of fun out of your summer vacation ☀️ I CANNOT believe August is upon us and it's time to start thinking about heading back to school. I always try to start the school year off on the right foot with my students by learning about who they are, their likes, dislikes, and future plans. I DO NOT go over the syllabus on the first day of school – that's boring for me and I cannot imagine how mundane that must be for my students! If you're starting to brainstorm engaging activities for the first day of school, check out my list below!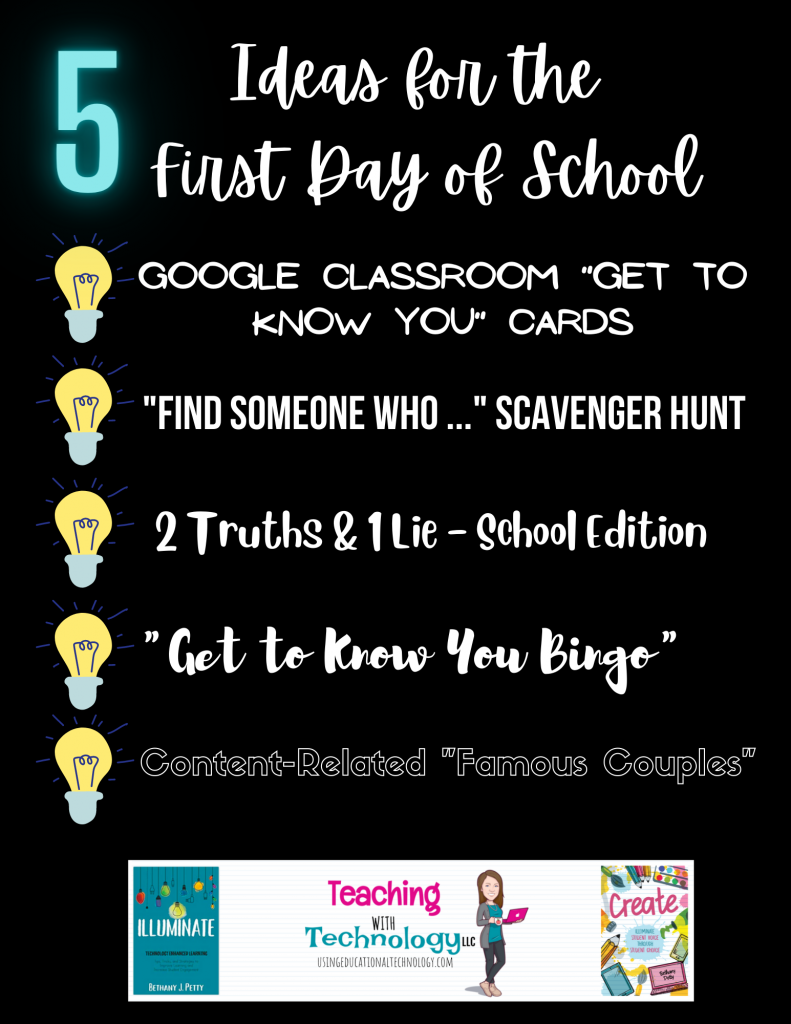 Get to know you "cards"
When I look back on the early years of my teaching career (I'm starting year 15 this month – WHAT?!) I'm reminded of the index card "activities" that I used to start the school year with. Each student was given an index card where they would write their name, parental contact information, and their extracurricular activities. I would then file them neatly in an index card container and never look at them again … ahhhhh, what a waste of time! 🤦🏻‍♀️ While it is important to gather important information from our students (for example, I need to know who is allergic to peanut butter before I whip out a jar in class!), we can most definitely collect information in other ways besides using an index card.
⭐️ Classroom Question – Post a Question on Google Classroom, asking students to share the important information you would typically ask on an index card. Be sure to turn off the ability for students to view and comment on their classmates' submissions!
⭐️ Flip Video – Using Flip (formerly known as Flipgrid), create a grid for your students to share a brief introduction, benefitting both you and their peers!
⭐️ Jamboard – Create a Jamboard or use one of these templates to encourage students to share about themselves with you and their classmates.
⭐️ Collaborative Slides – Create collaborative digital "index cards" for each class section.
Check back soon for the "Find Someone Who … " scavenger hunt activity!
Thanks for reading 🙂