Happy New Year, friends! I hope 2017 has gotten off to a wonderful start and you're extremely excited to head back to your classrooms and inspire the minds of the future! I'm not quite there just yet … but today I did put on jeans instead of sweatpants for about an hour! This is an impressive feat considering I don't start back until Thursday AND my Keurig broke this morning. Anyway, on to the reason you're here … a few of my favorite Google Drive hacks!
Using "Recent" and "Shared with Me"
"Recent" and "Shared with Me" are two of my favorite filters to use in Google Drive. They're fantastic. When I'm creating an activity for my students, I almost NEVER have the idea and create the assignment to completion in one sitting. Then, I'm pulled away to something else .. another idea or, you know, teaching <3 . The Recent filter is probably my favorite feature of Google Drive because, EVEN IF YOU HAVE FORGOTTEN TO NAME YOUR DOCUMENT, which is a big no-no in the Google Drive world, you'll be able to see your files starting with those most recently created. It's wonderful!
The "Shared with Me" filter, as its name implies, allows you to view documents that have been shared with you via Drive. Like "Recent," this filter will show files that have been shared with you by most recent date OR by the files shared first. You can choose how to view these files by selecting "Share Date" when you've selected the "Shared with Me" option in Drive.
How do I know it's a shared folder?
Creating shared folders in Google Drive has definitely been a game-changer for me both in the classroom and in my regular person life … do teachers really even have a regular person life?! I love being able to create folders to share with my department to foster collaboration and encourage accountability. I also love being able to share a folder with my husband that includes family stuff – bill information, grocery lists, letters, etc. It's pretty great.
But, how do you KNOW a folder is shared by looking at your Google Drive? Shared folders will have a person icon on the folder. Check out the image below

You can easily make a folder a shared folder by clicking on the folder, selecting the share icon (which looks like a person with a +), then entering the required information. View images below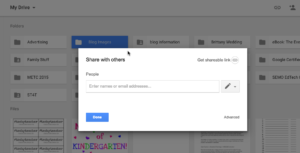 Select Folder Options
While in your Drive, right-click on a folder to find more options for your folders!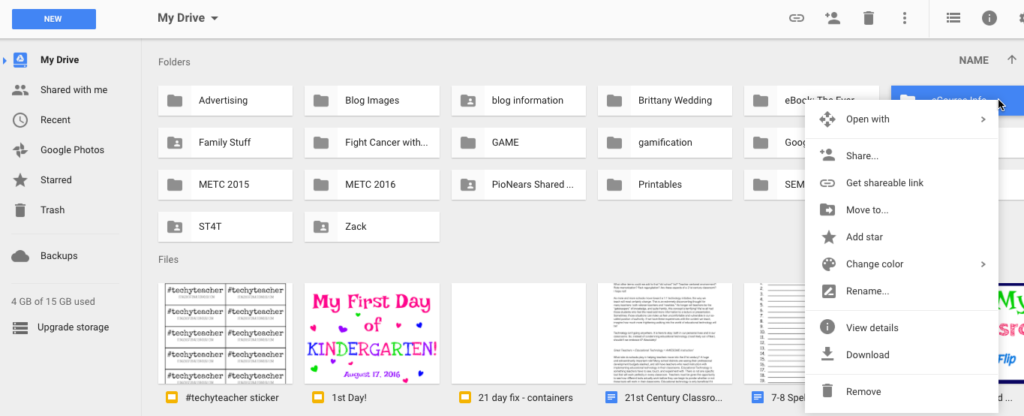 From this menu, you can easily share your folder and its contents, move the folder to a different location in your Drive, download the folder (zip file), rename the folder, add a star (like favoriting – this will allow the folder to be viewable with the "starred" filter), AND change the color of the folder which is probably my favorite feature!
Viewing Folders and Files in Drive
Another quick hack lets you view your drive in a list or thumbnail view. My personal preference is the thumbnail view … I like to see little previews of my files, but some many find the list view a little cleaner or more organized. Whatever your preference, make it happen in Google Drive by selecting "list view" or "grid view" in the upper right corner.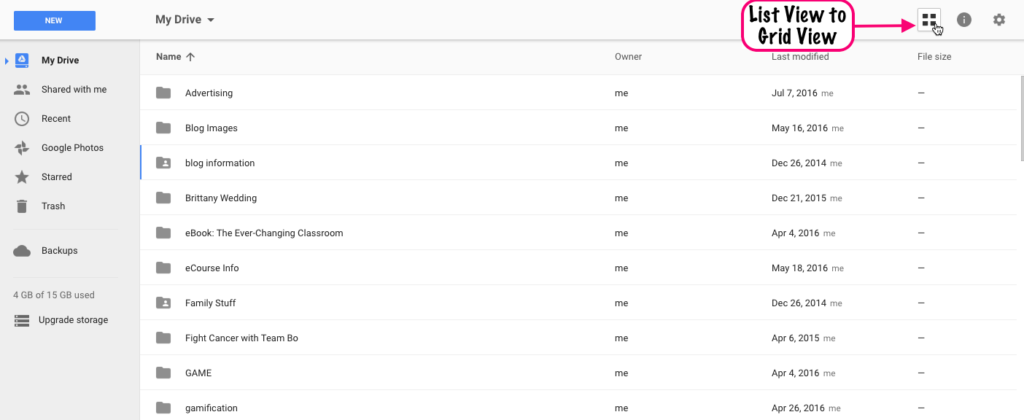 What are your favorite Google Drive tips? Share them in the comments!
Thanks for reading 🙂