Last semester, my students and I were so fortunate to participate in a fantastic global collaboration with a group of students in the United Kingdom.  The availability of educational technology tools and device is shrinking the world like never before and making activities like this one possible!
When I mentioned the possibility of working with a group of students in another country, they were absolutely blown away with the fact that we could actually do that, and that I was willing to let them do it! I feel like so much of the angst and hatred in our world today comes from a lack of cultural understanding and empathy, and I could not let an opportunity to break down those barriers pass by my students!
Here's how our collaboration worked:
PADLET and GOOGLE FORMS
Before actually having our Google Hangout video call, I wanted to gauge my students' interest in this project and to learn what questions they would ask our British friends. My worst fear was that 1) my students would stare at the screen and say nothing or 2) that the conversations would go awry and the activity would be a trainwreck! To avoid these problems, I create a Google Form and required students to list 3 questions they would like to ask of our British counterparts. This was a great way to see what the students were most interested in learning … questions ranged from how long is your school day to what do you eat when you're sick. Then, I created a Padlet wall for my students to post their introductions and list their questions … basically, this served as a discussion board of sorts. My British counterpart created a Padlet wall for his students for the same purpose. Then, we exchanged Padlet links and the fun began!
The new addition of the commenting feature on Padlet really "leveled up" this activity. Students were able to comment directly on each other's introductory posts and really engage in awesome conversations. Of course, they exchanged their social media information as well 🙂
I can't even begin to explain to you how awesome it was to see my students interacting with students in another country…learning about their country and culture, laughing at cultural misconceptions, and realizing that there is a world outside of our country was absolutely fabulous. The global empathy that this activity fostered made my teacher heart swell with pride 🙂
students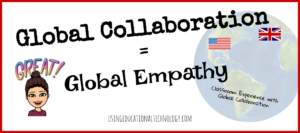 THE HANGOUT
My students asked DAILY during this activity when we were actually going to talk to our British friends. It was extremely excited to watch my students … juniors and seniors … get excited about an activity. Engagement!! We were finally able to have our Google Hangout video call the week before we dismissed for Christmas break. Due to the time difference, my students came to school at 6:45 to meet with our new friends during their lunch period.
We decided that an international game of Kahoot would be fabulous, and we chose to create our own game with 5 questions about Disney movies and 5 questions about Harry Potter lore. The only hangup we had with this game was a brief lag which, since my British counterpart hosted the game, may have given my a tad of a disadvantage … or, maybe we're just sore losers 😉
This activity was absolutely FANTASTIC and I can't wait to do this again! Special thanks to teacher, Andy Cooper for being a wonderful teacher and counterpart in this activity! Check out his blog and follow him on Twitter @teacherandy78 . Be sure to follow Rhett Oldham @SGhistoryteach to keep up with his global collaborations … he's a rockstar!
Interested in learning more about working with classrooms around the world? Check out EdChange Global Classrooms here!

This kind of goes without saying, but I highly suggest having a Google Hangout video call with the teacher you're planning to work with beforehand!
Thanks for reading 🙂