Happy Saturday, all! I'm coming to you today from the comfort of my car while waiting for my oldest daughter's soccer game to start. That's how my weekends are spent in this season of life … soccer, volleyball, basketball games and practice, with my oldest, and ballet, tap, jazz, cheer, and Nutcracker rehearsal with my youngest! When they're grown, I have a feeling my husband and I will sit around our house and be bored out of our minds with our free time! I love being the ride-or-die for my girls as they do what they love. Bring on the coffee! I've had this post in the back of my mind for a few weeks, and I'm finally getting around to sharing my current top 5 daily websites for teachers, which is part of a new series I'll be creating over the next few weeks, focusing on my "Top 5" favorite websites, Enjoy 🙂
Edpuzzle
I've shared my love for Edpuzzle MANY times over the last few years, but it is literally used daily in my classroom! I run an in-class flipped classroom, which means my students view instructional videos IN CLASS instead of at home for homework. My philosophy on homework has changed throughout the course of my career … basically, I don't know what my students do or have access to outside of my classroom. Many work (some to support their family), care for younger siblings, and participate in extracurricular activities. I also don't know what their home technology situation is – do they have reliable WiFi or will they have to drive to the McDonald's parking lot? These situations, among other things, have contributed to my homework policy! Using Edpuzzle allows me to share instructional videos I create (I ALWAYS use videos that I make for my students), monitor their progress, provide effective feedback, AND create a more individualized learning experience for my students. If they need to pause and rewind me to get everything in their notes, they can! If you're not using Edpuzzle, please add it to your list!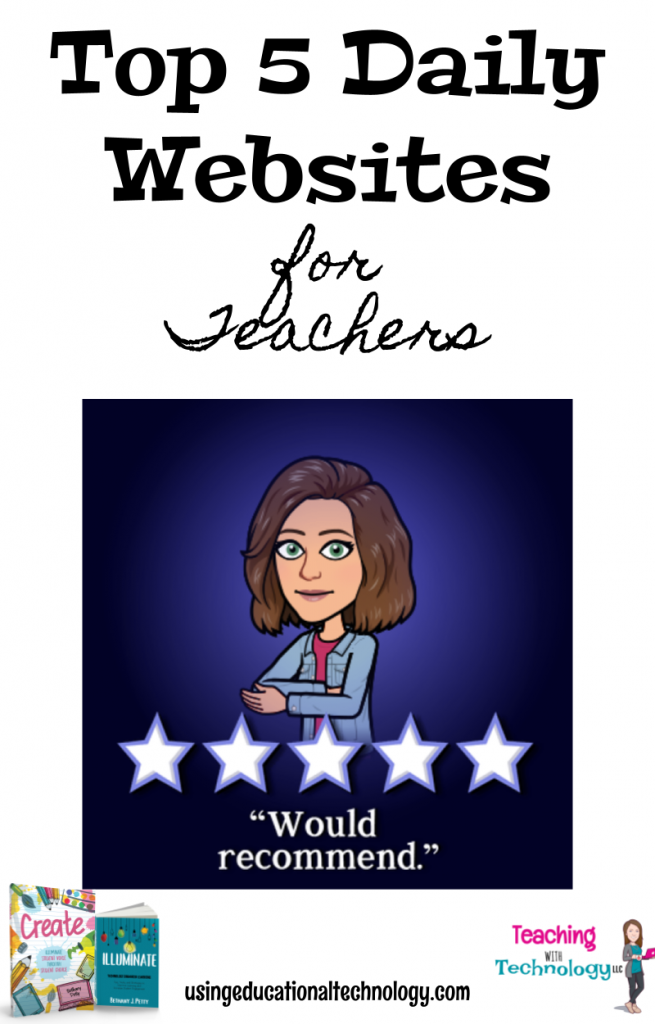 Nearpod
We use this tool LITERALLY daily in my dual credit Social Studies classes. I love the ability to upload and edit existing Google Slides, PowerPoint, Keynote, or PDF files to Nearpod and then add the magic of Nearpod – virtual tours, 3D images, gamified formative assessment, collaboration activities, and MORE! One of my favorite features of Nearpod, however, is the simple fact that I can log into my Nearpod app on my phone or iPad and advance my presentation from anywhere! Whether I'm in my classroom with my students or sitting at home on a Google Meet. The mobility that Nearpod provides is a must-have!
Flippity
If you've read Illuminate: Technology Enhanced Learning (thanks!) or Create: Illuminate Student Voice Through Student Choice (again, thanks!) you know that Flippity is an AMAZING website for teachers in any classroom to use. Create dozens of different activities and games for your students using this super-simple and FREE tool. Bingo, Jeopardy, flashcards, matching, timelines, crossword puzzles, mad-libs, brackets, badge trackers, and MORE are easily created and shared with Flippity. Seriously, if you haven't used this website yet, do yourself a favor and add it to your toolbox!
Quizlet
Quizlet is a FANTASTIC website for your students to use on its own – easy and effective vocabulary review and games that make learning fun. However, Quizlet plays SO WELL with other amazing review activities! Have you tried Blooket? Teachers can quickly create Blooket sets by using the "Quizlet Import" feature (and following the super-simple instructions Blooket provides). Then, choose from one of the many game modes – my students are currently hooked on Monster Brawl – and set a time limit for play. We use Blooket as a warm-up activity almost daily! Do you use Gimkit? If not, be sure to check out the flashcard import tool available on Gimkit as well. Then, launch a game – we love Tag and "Trust No One," set a time limit, and use this game as a daily warm-up, review game, or exit ticket. My students beg to play Blooket and Gimkit!
Google Workspace
Last, but certainly not least on my list of daily websites … Google Workspace for Education! See what I did there? Did I cheat because Google Workspace for Education encompasses FAR more than just one website? Hmmm … maybe, but this is my list! Ha! I use so many Google tools on a daily basis, that I couldn't just pick one!
Google Classroom to share assignments, announcements, materials, and assessments
Google Slides for presentations, interactive guided notes, drag-drop review, collaborative vocabulary, and interactive self-checks
Google Drawings for collaborative review, compare/contrast, 4 corner conversations, and "what are they thinking" activities — more on these soon!
Google Sheets for pixel art review self-check activities. When I assigned one of these activities last week, one of my students said (with actual excitement in his voice!), "Oh, sweet! We're doing one of these things!"
Google Forms for assessments, pick your path, and Buzzfeed-like activities
Google Docs for self-checks and collaborative reading activities.
See?! I couldn't just pick one Google tool!
What would you add to this list?
Thanks for reading 🙂