Happy Sunday, all! I'm coming to you this evening after a FULL weekend of volleyball! My oldest daughter and her club volleyball team won their tournament yesterday and took second in their tournament today, and I have a serious case of bleacher-butt ???? No matter how sore my backside is, I love this season of life and watching my kids do what they love! Is it me, or does it seem like everyone is talking about – really I should say freaking out about – AI and what it means for classrooms? Doesn't it feel like we've been down a similar road before with SmartBoards, Chromebooks, YouTube in class, and social media in schools? I'm sure you can add a few more things to that list, but my point is this: teachers have figured out how to navigate AND leverage all of the tools, programs, and strategies we've encountered, and AI will be no different!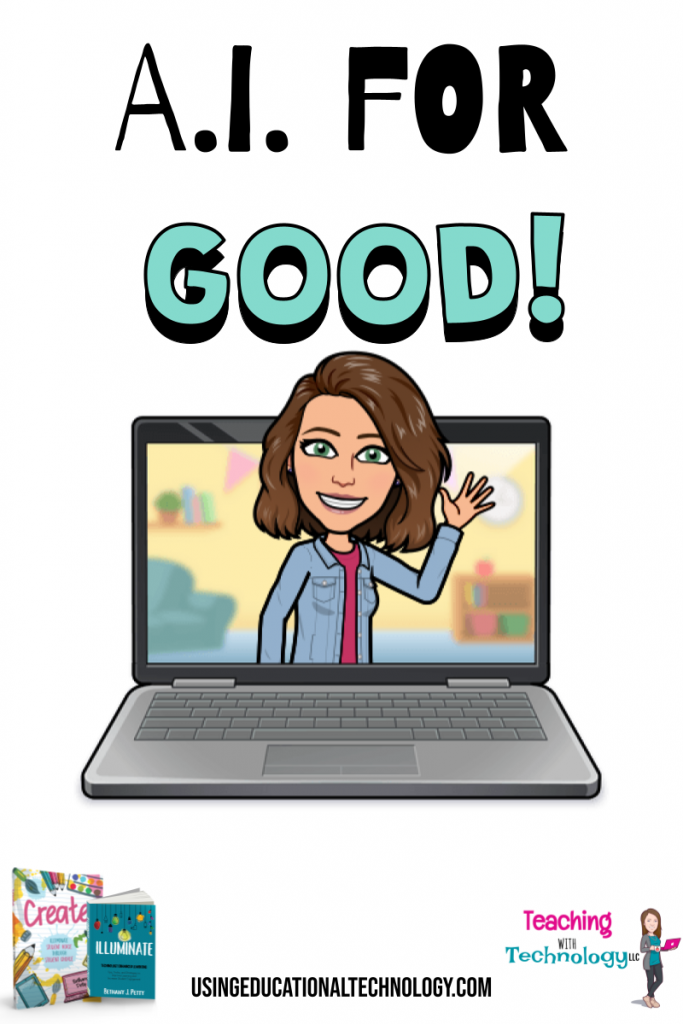 As I'm diving into the world of AI, I'm learning through the lens of "how can I use this in my classroom?," instead of "how can I prevent this from being used in my classroom?" I'll admit, the first mention I heard of AI in the classroom was a few months ago when students were using ChatGPT to try to write their essays for English – not the best use, of course, but I can't blame them for trying! Almost as soon as I heard about these valiant efforts, I started thinking about how ChatGPT and other AI programs could HELP with the research and writing process, instead of helping students avoid work … these ideas led me to this blog post, aptly titled, "AI for GOOD!"
If you're thinking about exploring the world of AI and how it can help you as a teacher, consider these suggestions:
ChatGPT
Have you played with ChatGPT, yet? Don't knock it til you try it! I did a quick search a few days ago, asking for motivational quotes for high schoolers, and I was definitely pleasantly surprised with the results! Even though ChatGPT requires an account (there's a premium version, but I'm using the freebie) it does allow users to log in with Google AND keeps a record of your questions and answers! I plan to use this to help me generate different types of content-related questions on tests!

Curipod
Think of ChatGPT and Nearpod lumped together, and you'll get Curipod! Curipod allows teachers to search their extensive library of lessons OR use their AI feature to generate lessons and activities based on a specific topic. When I experimented with Curipod, I generated a presentation about the three branches of the United States government. While I didn't use the presentation with my students, the resources and information that Curipod shared helped me view the information I was teaching in a different way, helping me step back and look at my content from a different perspective – this reflective process was also a brainstorm moment that led to me creating a super fun activity for my students!
Yippity
Ok, this is super cool. Yippity can be used by teachers AND students as a tool that can transform students' notes into flashcards! WHAT?! How cool is that? In addition to generating flashcards based on student notes, Yippity can provide teachers with a great opportunity to help students effectively create and organize notes. I'm definitely adding this to my tech toolbox!
Quizlet
Ahhhh, Quizlet. An old faithful, am I right?! Quizlet is now beta-testing an AI study tool for students – and it is SUPER COOL. Students simply select a flashcard deck and choose the "Q-Chat" feature which converts the flashcard deck into a text message conversation. WHAT!? My daughters will definitely take advantage of this as they prep for their next tests!
So … what do you think? Can we use AI for GOOD instead of evil? Can all of the technology we use in our classrooms be used for evil instead of good? You betcha. Is AI going to solve every problem in education? Nope! Will some people try to use AI for cheating? Yup. Will AI replace teachers? NOPE!
I'm choosing to look at AI as an exciting opportunity for me and my students! Who's with me?
Thanks for reading 🙂