Happy May, all! My students and I have less than TEN DAYS left in our school year. It seems like this school year has gone by SO quickly, but at the same time, I am SO ready for summer break! We only had four snow days this year (we don't have to make these up in my district!) so our second semester seemed a bit longer than most years – I was at a conference for two of those days, so I'm saying I only had two snow days! Since we're in the thick of content review season, I thought I'd share a few fun and effective review activities that ARE NOT QUIZLET, BLOOKET, KAHOOT, OR QUIZIZZ! Here they are!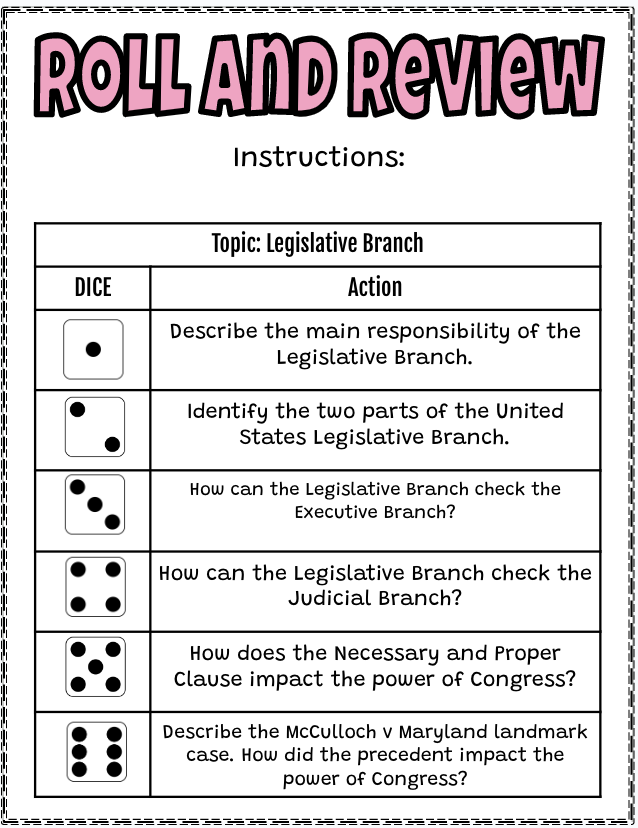 ROLL AND REVIEW
This activity is super quick to create and modify for any type of review … just grab some dice, or use an online dice (this is typically my go-to because I can never find my dice!) and get ready to review! I like to create a Google Slides presentation, change the page format to 8.5×11, insert a table with images of dice faces, and then edit the numbers based on the content of the review.
DRAG AND DROP
Over the last few years, Drag and Drop formative assessment/review activities have become one of my favorites in our classroom. I love them because they are SUPER easy to create and provide me with great data to drive instruction. My students appreciate them (notice how I didn't say LOVE?! I'm not here to lie to you, friends!) because they can reference this assignment as a study resource and help clarify concepts throughout the unit. Click here to access a force-copy template that you can use with your students tomorrow!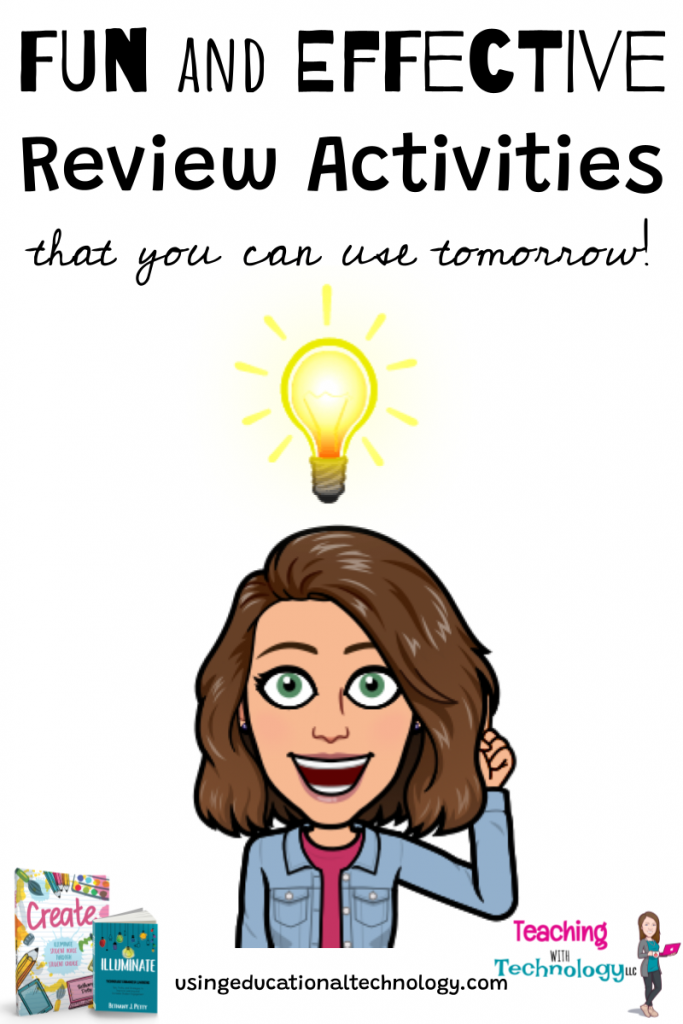 VOCABULARY PICTIONARY
If you've followed my blog for a few years (thanks!) you know that I'm a HUGE fan of Nearpod and use it almost daily in my classroom. Often, when people think of Nearpod, they immediately think of interactive lessons and super-awesome presentations. However, Nearpod has SO MANY other features that teachers of any grade level can utilize in the classroom. One of my favorites combines the "Draw-It" activity combined with the quick launch feature. No need to create a typical Nearpod "lesson" if you use this strategy! Click here to learn more about how we use Nearpod to play vocabulary "pictionary!"
FIND (AND FIX) THE FAKE
This activity is my personal spin on the popular "two truths and a lie" ice-breaker activity and is SUPER SIMPLE to create. Heck, you could probably use ChatGPT for ideas for your "fakes!" This would be a great activity for the end of the year, but also good for the middle of a unit to check progress, or for the end of any unit as a review! Click here to make a copy of my American Government Find and Fix the Fake to use with your students!

DIGITAL STICKY NOTES
This activity is SO easy to create AND reuse! Using Google Slides, Jamboard, or Google Drawings, create digital sticky notes and an idea/question board. Share the file with your students – give them editing rights (I know that can be scary) – and instructions that best fit the needs of your lesson. In our class, each student grabs a sticky note and includes a question they still have, something they learned, or something they need help with and drag it onto the "board." When students have finished adding their thoughts, simply switch their editing rights to viewing rights.
TRIVIA
I started playing trivia with my students as a review earlier this school year as we were getting ready for our Missouri Constitution test, and it was A HUGE HIT! This review activity appealed to all of my students (keep in mind I teach juniors and seniors)
Disclaimer – I LOVE KAHOOT, QUIZIZZ, BLOOKET, AND GIMKIT! We seriously start each day with a "warm-up" of Blooket or Quizizz. It is nice, though, to switch it up a bit, especially as the end of the year draws close! I hope these activities can help you and your students end the year on a high note! Another disclaimer – this blog post was created 100% by me and not by AI!
Thanks for reading 🙂