Wow, friends! METC has delivered yet again! I love love LOVE learning new strategies, ideas, and tools for my classroom and METC17 definitely provided a wonderful opportunity to do just that!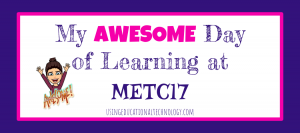 And networking … OH, THE NETWORKING! I love meeting innovative and inspiring teachers and leaders in education. Did I mention I got to meet Dave Burgess?!
In case you're not from Missouri … 🙂 … METC is the Midwest Educational Technology Conference held every year at the St. Charles Convention Center. METC is put on by EdPlus, an organization in STL that provides high-quality, awesome professional development!
Just in case you missed my poster session, here's my presentation!
On another note … one of my favorite things to do on Twitter is to share tidbits of awesomeness I hear at conferences. Here are a few from today :
"We are in the life-changing business!" – Dave Burgess
"We can't measure a teacher's effectiveness with standardized test scores!" -Dave Burgess
Thanks for reading 🙂