Hello, all! Is it just me, or does it seem that summer vacation really speeds up after July 4? I feel like the second half of summer goes WAY faster than the first part and I'm quickly realizing that I'm not checking off nearly as many things from my summer to-do list as I wanted! As I'm prepping for the new semester, I'm planning to share how I'm using some of my favorite digital tools in my lessons to increase engagement, illuminate learning, and make learning memorable! As you've probably noticed, I'm quite a fan of Nearpod and use it daily in my dual credit classes. While there are definitely more, here are 3 reasons to use Nearpod in your classroom!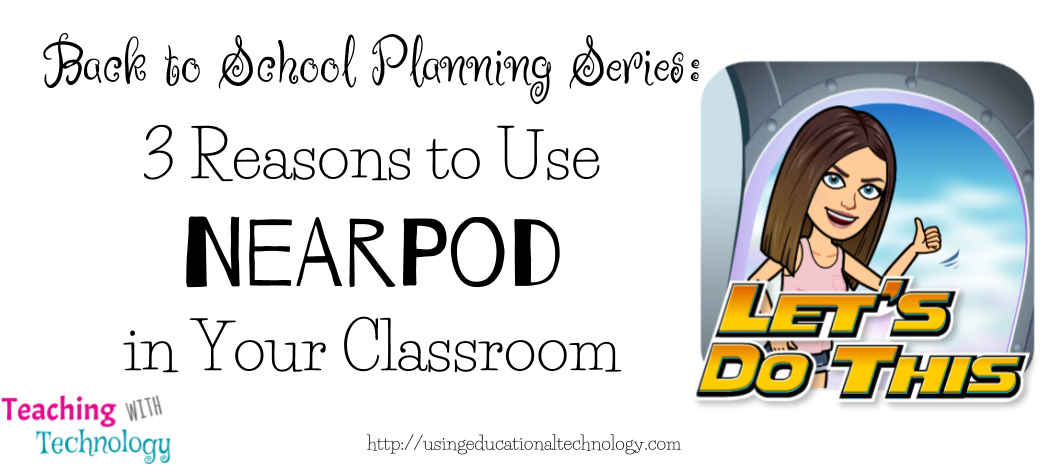 Virutal Reality 
Seriously, how awesome is virtual reality? The fact that teachers now have the ability (through multiple tools) to virtually take students to places, past and present, to enrich their learning experience is just amazing! Nearpod allows teachers to embed virtual field trips into their lessons to transport students to amazing places around the world. In our World War II unit, I love taking my students to the Palace of Versailles, Japan after the use of nuclear weapons, the barracks at Auschwitz, and the Arizona Memorial at Pearl Harbor, Hawaii. When students use their smart phones or tablets, they're even able to walk through these places. Students using a Chromebook or laptop are able to drag and zoom on the image as they travel to distant places.
Formative Assessment 
Formative assessment is key in any classroom – we need to know what our students know and what they don't know so we can help them understand what they don't know and encourage them to apply what they know – you know?! 🙂 When creating Nearpod lessons, teachers can embed a variety of formative assessment questions – include multiple choice, true/false, and one of my favorites: draw it – into their presentation. When the lesson is launched and the class proceeds, students will view the questions on their screen and the teacher can view the results of the class in realtime. Teachers can also add formative assessment questions "on the fly" during their lesson as needed.
Student View 
My students REALLY appreciate the fact that they can log into a Nearpod lesson and view the information on their device without having the crane their necks around the heads of their classmates. They also LOVE that they can interact with virtual and 3D images, simulations, etc., on their own devices. The ability to view the presentation on a variety of devices also offers a great deal of flexibility for my students!
I could really go on and on and ON about the wonderful features of Nearpod! Definitely check out this great digital tool and reach out if you have any questions. I'd love to help you use Nearpod to illuminate learning!
Speaking of illuminating learning — be sure to check out my new book, Illuminate: Technology Enhanced Learning, for great tips and strategies for using great technology, like Nearpod, to enhance the learning environment for your students!
Thanks for reading 🙂