Hello, and happy Tuesday! In case you missed it, Google announced today that they've made some great improvements to Classroom, hopefully making it more user-friendly and efficient for teachers and students! Let's dive right into the updates to Google Classroom.
Separate Stream and Classwork Tabs
Do you ever look at an update from a tool that you love using in your classroom and think, "YAASSS! This is going to be so much better!" That's exactly the response I had when I noticed this change in Classroom. One of the chief complaints that my students have while working in Classroom is that everything is too "smushed" or "jumbled" because assignments, announcements, questions, etc., are all in the same spot. And, prior to this update, I totally agreed with them. Yes, I used the "topics" feature to make locating resources, assignments, etc., easier, but the fact that everything was on the Stream was just a bit too much. N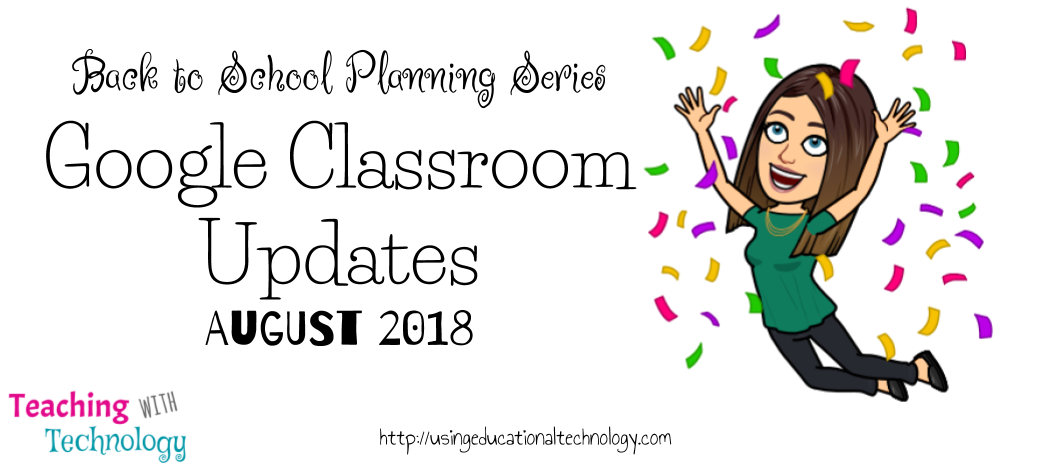 ow, Stream and a new tab "Classwork" are two separate entities within the Classroom section, allowing for teachers to create assignments (and soon, locked quizzes!), questions, and topics (used for units) on the Coursework tab and announcements on the Stream tab. Woohoo!
New and Improved Grading/Feedback
Perhaps my favorite update to Classroom is the grading feature. Teachers can now open student work through Classroom and toggle back and forth between student submissions without opening new windows for each individual student submission. As you can see in this article from Google, teachers will be able to open a student submission, add comments (and even quickly add often-used comments!), and move to another student's work without opening a new tab. WOOHOO!!!
Topics 
Ok, so I know I just said that the grading/feedback option was my favorite, but the new Topics option is a close second … maybe tied for the favorite spot. The Topics feature has been around for quite some time in Google Classroom and has done wonders for "cleaning up" the sometimes messy Stream. NOW teachers can use Topics to create units in the Classwork section – almost like folders where students can easily access all of their work and information for a given unit. WOWZERS! Check out this GIF for more details.
Long story short – I am PUMPED about the new features that have been added to Google Classroom. Soon, teachers will also be able to assign a Google Form as a quiz through Classroom (on managed Chromebooks) in "locked" mode – I can't wait to see how this works!
Thanks for reading 🙂