I have a dilemma.
I teach American Government, arguably one of the most important courses in the Social Studies content area for obvious reasons…you know, teaching students about how their government works, how to be a part of it, and of course, what characteristics a good citizen embodies.
No big deal, right? 😀
In the state of Missouri, Government is an end of course tested area, which means my students and I are nose to the grind every day trying desperately to learn and retain course content…and have fun doing it!
Here's my problem. I feel so bogged down with content that I can't afford to spend as much time as I would like to in discussing current events topics, which I feel are extraordinarily important.
Don't forget to throw in the Common Core Standards and helping students prep for the ACT.
Please tell me someone else "feels my pain."
How can we expose our students to current events topics, meet Common Core Standards, and help students prepare for the ACT reading comprehension questions?
Curriculet!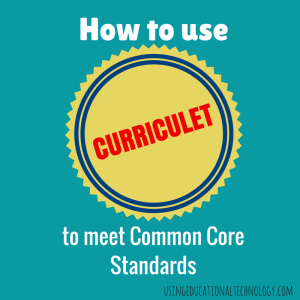 I have only scratched the surface of this fantastic site, and I'm telling you, this is awesome.
Teachers can create a free account and view all of the wonderful readings Curriculet has to offer. Dozens upon dozens of eBooks are available for rent (some are free while others charge a small fee per student) and are easily assigned to students. "Curriculets," or lesson/unit plans that correspond with the eBooks, are also available.
These Curriculets are ALIGNED TO COMMON CORE STANDARDS!!
It's great!
My absolute favorite feature of Curriculet, however, has nothing to do with eBooks.
Curriculet has joined with USA Today to provide students with quality, reputable current events articles with embedded quizzes that are comparable to an ACT type reading comprehension question! USA Today articles and embedded questions are added daily, keeping your students up-to-date on current events while the participate in CCSS/ACT type activities. It's fantastic!
Teachers can easily view student performance on each question (aligned to standards of course) and can even view the time students spent on the activity.
Teachers can assign USA Today articles through Curriculet at three different levels, Elementary, Middle, and High School, and students CANNOT change the reading level of the assignment!
Curriculet + USA Today does come with a price tag, but is quite reasonable.
Teachers (building wide) can purchase Curriculet + USA Today for $4.99 per student for an entire school year.
I personally see this as a steal since Curriculet + USA Today can be used across the curriculum.
How can you get started with Curriculet + USA Today in your classroom?
Simply access Curriculet and sign up for the free trial (45 days) of Curriculet + USA Today. Access your teacher account to create classes…this process is very similar to how you would set up classes in a typical Learning Management System.
Students also access Curriculet and sign up as a STUDENT…you may want to emphasize this particular step 🙂
When my students create an account for a site we will be using in class, I always ask them to choose the sign in with Google option, simply because this prevents them from having to remember yet another username and password.
While Curriculet offers this option to teachers and students, users can also create an account with "Clever" which is apparently as safe, or safer, as the Google sign in option.
How do I use this in my classroom?
So far, my students have completed Curriculet + USA Today article assignments as a Bellringer (on days they do not have an instructional video to view). I have also assigned these activities during our school's SSR time (Silent Sustained Reading) for students who claim they have nothing to read 🙂
The student response has been extremely positive, and this is most definitely a tool I will continue to use (and learn more about) during the next school year!
Thanks for reading 🙂
Just so you know…I have not received, nor will I receive, compensation for writing this post. I have found an awesome tool and want to share it with you!