Well, friends. I did it. Yesterday, I turned in my Apple TV – my beloved Apple TV that I used during every class period, every day about 5 years ago. I loved being able to use my iPad with my Apple TV to move around the classroom, display fabulous apps like Google Earth, and sketch out concepts and examples for my students. Two Google tools, however, have made my Apple TV an unnecessary tool for my classroom: my new touchscreen Chromebook and Google Cast for Education.
These tools are not brand-spanking new products to the EdTech scene. Google Cast for Education debuted as a Chrome app in 2016, and was updated in July of this year to function as an extension instead of an app.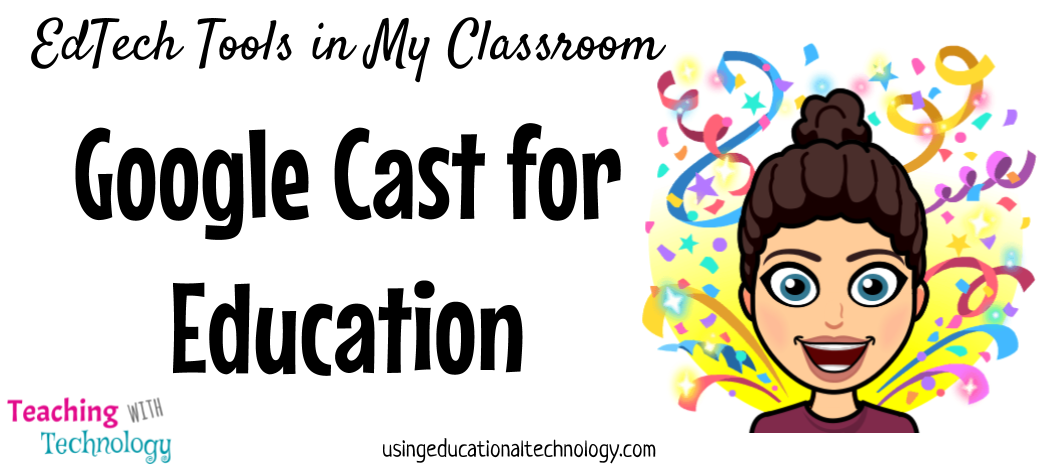 I played around with the original Google Cast for Education app in 2016 and, while I thought the premise was fabulous -> allowing students to share work with their peers and allowing me to cast information for the class from anywhere in the room -> it was far too clunky for me to use in my classroom. We know that this is the case with many tools … thankfully, many of them improve over time. Google Cast for Education, in its original Chrome app form, just didn't past the test for me to use in my classroom.
The update for Google Cast for Education is fantastic! It's an extension – you know I LOVE extensions – and super-easy to use. To get started with Google Cast for Education …
1. Check with your Google admin to make sure you're good to go!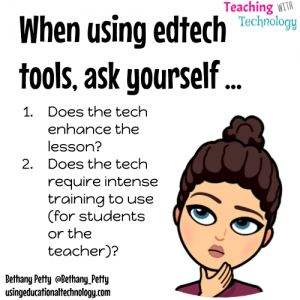 2. Teachers download the Google Cast for Education extension
3. Name the device your students (and you with your Chromebook) will cast to … I named mine "Mrs. Petty's Desktop"
When you're ready to share a resource from your Chromebook …
1. Access your Chrome browser settings (three little dots in the top right corner of the screen)
2. Select "cast"
3. You'll be greeted with a welcome message … just click "ok, got it" … and will be asked what you would like to cast -> your tab or desktop
4. Next, you'll choose the location you'll be casting to
5. Voila! You're casting your Chromebook screen to your projector with no wires!
Students can cast to their teachers desktop as well …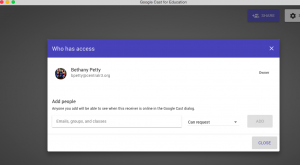 1. Teachers can grant access to groups of students or individual students through Google Classroom or by email
2. When granting access to a group, you'll be asked how that group will be able to access your casting device -> choose "can request"
3. When students are ready to share their screen, they follow the same steps as the teacher – Chrome settings – cast – select the teacher's desktop.
4. Voila!
I love using Google Cast for Education with my touchscreen Chromebook because I'm still able to get the feel of writing on my iPad and sharing it with my students. Now, my students can do the same thing!
Download the Google Cast for Education extension and try it out in your classroom!
Thanks for reading 🙂