Happy Thursday, all! If you're on my mailing list, you've probably already marked your calendars for the return of #IlluminateED TONIGHT at 7 PM (Central Time)! My Illuminate online course cohort had a fantastic discussion last week via Google Meet and we all fully geeked out about the infinite ways we can use Google Forms in our classroom – whether that be virtual, in-person, or a combo of both! So … I decided to share a few of my favorite features of Google Forms with you in a new series – "Google Forms Fun!"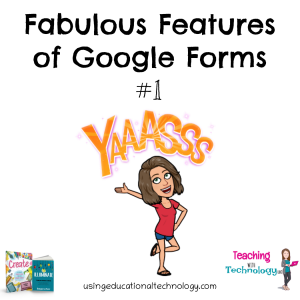 #1 Go To Section Based On Answer
This feature was THE topic of our conversation last week after a teacher asked for an easy way to differentiate instruction with a Google Form. I use the "go to section based on answer" feature in my high school and college classes to offer students choice when it comes to what they want to learn. To "turn on" this feature, simply select the three dots at the bottom of the choice question and choose "go to section based on answer."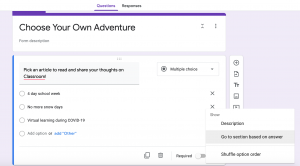 When you've done this, you'll see a dropdown menu appear next to each response option.
Next, you'll want to create a section that corresponds with each option you provide. To do this, click on the "new section" icon, which looks like an equal sign.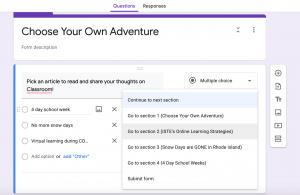 In the example, I provided three options of articles pertaining to an issue or topic in education. I included the link to an article as the description in each of the sections. You can add questions and reflection opportunities, as well as directions for what to "do next" for each section.
When you've created your sections and added your activities (if needed), you'll need to link your options to their corresponding sections. At the bottom of your sections, you'll notice a dropdown option that says "after section …" Select that menu and click "submit form" unless you want your students to do another section.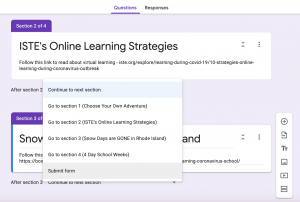 Double-check your form to make sure that you've made your choice question required so students can't skip it … not that they would 😉
That's it! You're done! You've differentiated a topic and given students choice. Go you!
Click here if you'd like to see the example form I created to demonstrate this feature.
Check back soon for the next Google Forms post – seriously, this may be my favorite Google tool. It's at least in the top 5!
Thanks for reading 🙂