Google has unveiled yet ANOTHER fantastic addition to the already wonderful Google Forms. Now, with the flip of a (digital) switch, teachers can view data by individual student or question, provide
students with feedback on each question, grade subjective questions, AND award partial points per question! Woohoo!
To get started, create a Google Form and turn on the "quiz" feature through settings. Here are the options I chose for my quiz settings in Google Forms… notice that I uncheck the correct answers option and select the "release after review" option.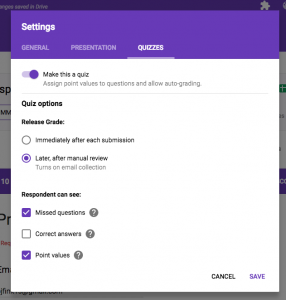 While in settings, be sure to choose "collect email address" in your options. This will allow your students to view their score and your individual comments on their responses.
To view the data from your quiz, select "responses," where you will see a more useful selection of data-viewing options! You can choose to view the summary of the data, which provides a bar graph with question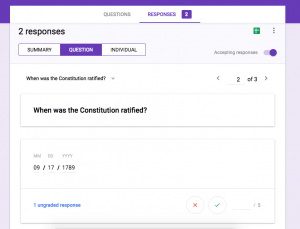 responses – this is not a new feature – or, you can view data by individual student or question. If you choose to view data by individual student, you will be able to provide specific feedback on each question and can share this information with your kiddos via email. If you choose to view information by question, you will be able to see how your students have performed on each question – this is PERFECT for formative (and summative) assessments!
By choosing to view data by question teachers can also award partial points for responses! I can't tell you how many times teachers have asked me how to award partial points … Google came through!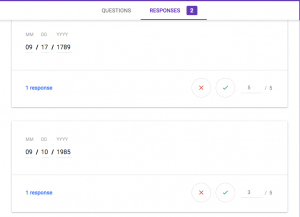 This update for Google Forms is FABULOUS! I can't wait to see what comes next!
Thanks for reading 🙂