Towards the end of last school year, my students and I were all suffering from end-of-the-year-itis. We had 10 snow days (nothing like 20 from the year before!) and we knew we would be making up those days AFTER Memorial Day.
We fell into the "4th Quarter Funk."
Motivation on both "sides of the desk" was at an all time low.
I had to try something to encourage at least a little drive and effort to close out the year.
I had heard about gamification at the wonderful EdTech conference I get to attend every year, METC, and originally brushed it off as something that was too much to add to my already hectic classroom. Shortly after METC, I realized that this attitude was exactly the mentality I was trying to push my students to avoid.
Teacher face-palm moment.
Even though I had NO experience in the world of gaming…other than the Super Mario Brothers of the 90's (lets face it…that's real gaming!),  I decided to give it a go. After all, I want to use educational technology tools and new instructional strategies to enhance the learning environment and increase student engagement. Gamification seemed like a step in the right direction.
I started by gamifying one unit of instruction in my American Government class. I was still unsure about the process (I'm by no means an expert now!), so I decided to take baby steps.
This year, I'm diving in head first.
My year long game,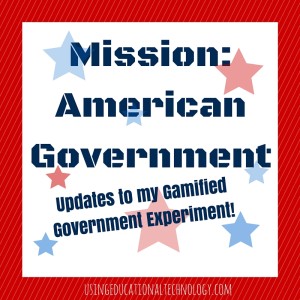 "Mission: American Government," is filled with XP, levels, tools, and badges. And, after introducing the concept to my students today, I think I may have nailed it!
Creating this game has pushed me out of my comfort zone…I'm trying to think like a game designer AND I'm actually USING a Spreadsheet. Formulas and conditional formatting, oh my!
Here's a rough outline of "Mission: American Government."
Students earn XP for completing unit activities and assignments

For my sanity…the XP is equal to the points the students earn in the grade book

Four different tools are available for each level

"Candy Crush"
"High Five"
"50/50"
"Post-It Pal"

XP earned by students allows them to "level up" (7 levels so far…after presenting this to my students today, I may need to add more!!)
Each level provides students with a specific tool
Students earn badges (to come in a later post!) for scoring at least an 80% on their unit exam on the first try
If you're interested in viewing my Google Spreadsheet with the above information, please click here.
In the Total XP column, I used formulas and conditional formatting…I'm slightly proud of myself!
Students Total XP is calculated, of course by adding the XP earned from the unit. Conditional formatting is used in the Total XP column to color code XP by levels. For example, students who earn between 100 and 500 XP are at the Bronze level, and their Total XP is highlighted Bronze. When they earn between 501 and 900 XP are at the Ruby level, their Total XP is highlighted Red, etc.
Seriously…I cannot tell you how proud I am that I figured out that specific feature of Spreadsheets!
In addition to earning XP for completing assignments (instructional videos, vocab activities, discussion boards, etc) students can also earn XP for other activities I throw out throughout the year. For example, if I see students voluntarily helping a classmate with a problem, I may award XP. Students were encouraged to complete their first instructional video at home tonight. If they do, they will earn XP. If students complete current events bonus activities, they earn XP.
So far, I really like the flexibility that gamification offers…by making XP available for assignments/activities as well as random "targets," I hope to keep my students motivated and avoid the 4th Quarter (or 1st, 2nd, and 3rd Quarter) Funk!
To jazz up the game even more, I think I'll allow students to choose screen names…or gamer tags?
Stay tuned for updates!
Thanks for reading 🙂