Happy Friday night! Phew! What a week it's been. I hope you're all doing well, staying healthy, and keeping your sanity as we try to get used to our new (and temporary!) norm. Yesterday, our Governor announced that all schools in Missouri would remain closed through the end of the school year and that we would continue with remote/e-learning until the scheduled last day of school. Though I knew this announcement would be coming, I was still shaken and upset when I heard the news. My heart breaks for my students, especially my seniors, who won't be able to have so many of those "senior year" experiences. Though I won't be seeing my students in my classroom for the rest of the school year, I'm so thankful for the technology we are blessed with that will allow me to at least see and talk with my students through my computer screen. When it comes to videoconferencing technology, many teachers around the country are embracing Google Meet for a variety of reasons – student familiarity, the ability to record sessions and save them to Google Drive, options to invite students through email, and creating an event through Google Calendar. Can you imagine the increase in usage that Meet has seen over the last few weeks?! Yesterday, Google announced a new way for teachers to launch Meet (ahem) meetings for their students using another familiar platform – Google Classroom!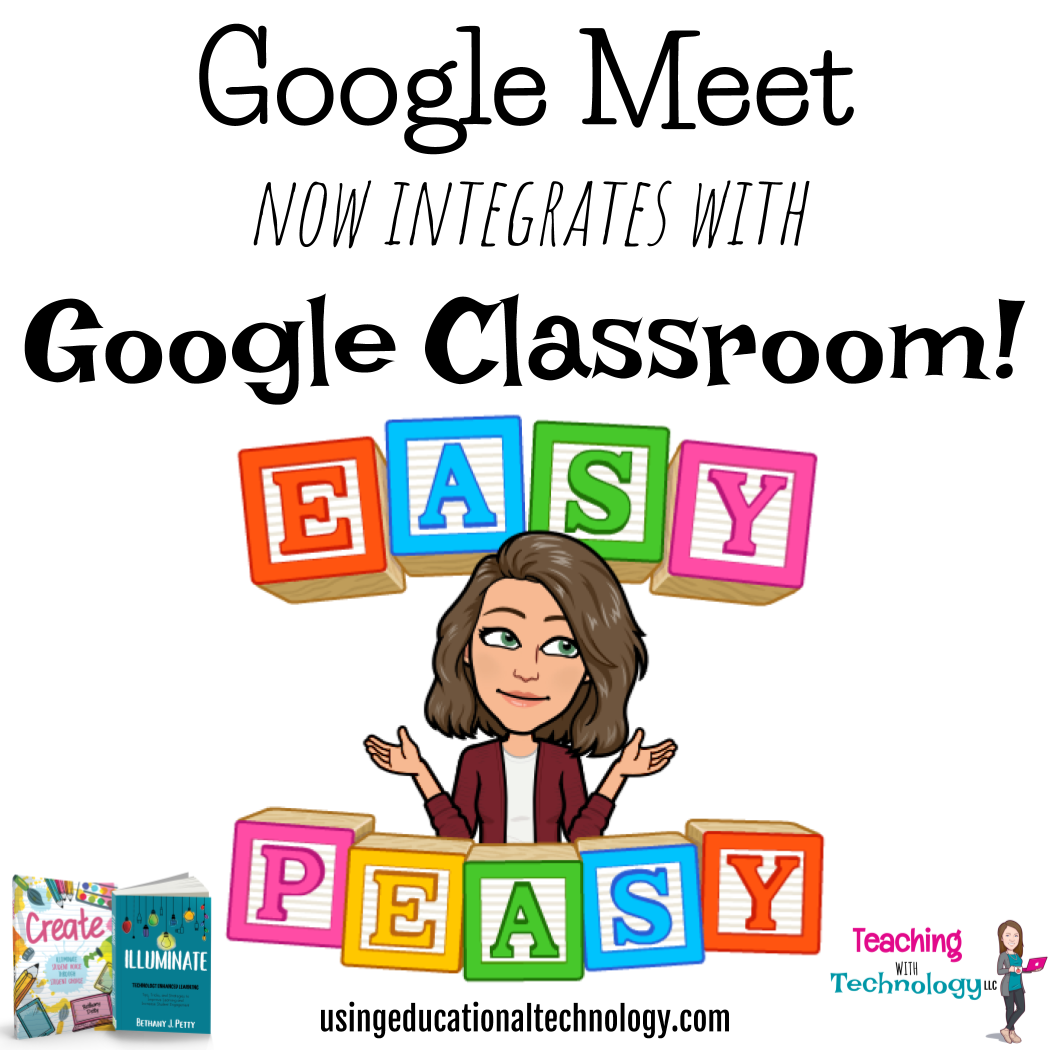 Yes, teachers around the world have already been basically integrating Google Classroom and Meet over the last few weeks. Teachers either go to meet.google.com to start a live session, or open their Google Calendar and create an event with video-conferencing. When they've done that, they copy and paste the unique URL to their Meet to an Announcement or Assignment on Google Classroom for their students to join. While many are already accustomed to this process (talking to you, Momma!) Google has given us a much quicker, dare I say an easier way to accomplish this task.
To "turn on" Google Meet in Classroom, simply open a Classroom section, and head to the settings toggle wheel. Then, scroll down to the bottom of the "General" category and select "generate meet link."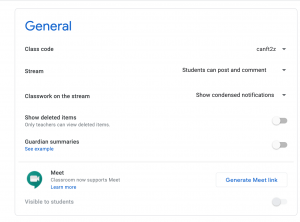 Next, you'll see a unique URL that will be used to launch Meets in that Classroom section. You'll be able to copy the link to share as an assignment, announcement, etc., and can choose to reset the link at any time.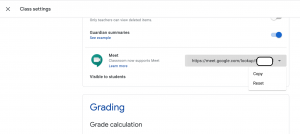 The next option you'll see will ask you whether or not you'd like the code to be visible to your students. If you choose to show the Meet link, the students will see it appear at the top of the Stream and Classwork pages. Instead of sharing the link on your Stream as an announcement, students will be able to see the link to join at the top of their Stream page. If you don't want your students to view the link, you'll keep that option toggled off. You will still be able to see the Meet link icon at the top of your Stream and Classwork pages to easily launch the session. You'll still follow the same steps to share the link with your students: Click the Meet icon, copy/paste the link into an announcement or assignment to share with your students.
So … why do it this way instead of other ways that you've used in the past? Once you select the "generate meet link" option in your settings, you'll never have to create a new Meet link! It's a one-stop, quick, way to launch your live lessons!
To read more about this new option, check out Google's update here.
I hope you're staying healthy! Thanks for reading 🙂