If you've read my previous posts about Google Classroom, you might find today's post extremely surprising.
It's no secret, especially around my building, that I have not been 100% happy with Google Classroom this year.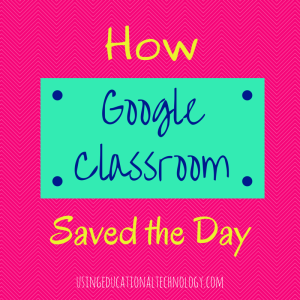 Yes, I know Classroom is in it's infancy, and yes I know bugs and kinks are still being worked out.
Today, however Google Classroom saved the day.
Here's what happened.
I was treated to a wonderful, long (and free) lunch today…it was fantastic! However, I had fully planned to be back in time for my next class period.
I didn't make it back in time.
As we were finishing our lunch, I was beginning to panic. Not panicking enough to skip dessert, but panicking nonetheless.
My Chromebook was at school, as were my Macbook and my iPad. The only technology I had on my person was my cell phone.
Thank goodness for cloud storage and Google Classroom!
I was able to quickly download the Google Classroom app to my smartphone, sign in to my account, tap a few buttons and voila, the assignment was on its way to my students as they were entering the classroom.
To say that I was relieved would be a slight understatement 🙂
My students received their study guide for their massive dual credit Western Civilizations final, and I got to finish my steak and eat my delicious frozen custard dessert.
Crisis averted, thanks to cell phones and Google Classroom.
While I would love Google Classroom to add new features, and I'm sure they will…come on, it's Google…I'm very happy with this document management system.
Especially now that Classroom has FINALLY added a Co-Teacher option! How great is that?
Happy Friday!
Thanks for reading 🙂