The school year is coming to a close! We have just shy of three weeks remaining…how about you?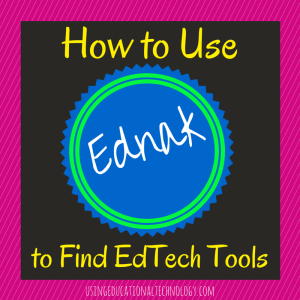 Summer is rapidly approaching, and as we all know, teachers DO NOT take the summer off! We are constantly updating curriculum, researching new teaching methods, and finding cool tools to increase engagement in our classrooms.
A few weeks ago, I stumbled upon an EdTech GEM, Ednak.
Ednak includes dozens upon dozens of amazing educational technology tools, complete with instructions and ideas for using the tools.
Ednak is incredibly organized, breaking down tools by a variety of different categories. Learning Management System, Collaboration Tools, Content Tools, Mobile Learning tools, and so much MORE!
Ednak is so simple to navigate and 100% FREE! Teachers can create an account and can then curate and share tools.
Add Ednak to your summer "to-do" list and find awesome tools for your students!
Thanks for reading 🙂