I've written before about the amazing potential of Google Hangouts in classrooms. Last week, however, I was actually able to experience that "awesomeness" first hand.
My students were able to take part in a Google Hangout with our Congressman, who was in Washington DC at the time. Students were able to ask our Congressman basically any question they could think of. We discussed everything from the Congressman's views on the use of drones and same-sex marriage to his favorite movie and baseball team.
My students and I truly enjoyed this activity. In class, we identified the elected individuals that represent us in Congress. This Google Hangout was a g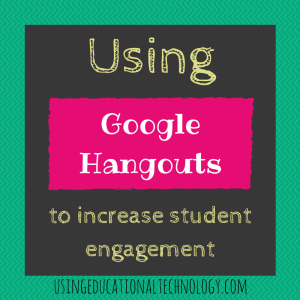 reat way to not only connect students to their elected representatives, but also to bring life to the names we discussed in class.
Our Congressman was very clear to point out to my students that they should never feel intimidated, or that they are too young to contact their elected representatives, and that they should take advantage of new avenues, such as social media, to get involved.
My students were also thrilled that we were able to take a selfie with our Congressman 🙂
This event, especially at the end of the school year, was a great way to engage students in content related activity that was…fun! I hope to make this a tradition in my classroom.
As we ended our Hangout, I asked my students if they could think of anyone else they'd like to "Hangout" with. The top response was, "President Obama!!"
Of course, I told my students that a Hangout with the President of the United States is most likely not going to happen.
However, I do plan to contact the President. After all, the worst he can say is no!
We would also love to connect with similar classrooms throughout the United States, as well as in England.
If you know of a classroom that would like to participate in a Google Hangout with my classes, please let me know in the comments or email me at bjfink1s@gmail.com!
Let's use technology to shrink the world!
I look forward to hearing from you!
Thanks for reading 🙂