We've been a GAFE school for many years, and have been 1:1 with Chromebooks for two school years. My students and I STILL have problems remembering specific shortcuts and how to find specific tools in Google Docs, because many features are in different locations in Google and Microsoft products.
To help everyone with this issue, I've created mini posters to display around my classroom that include specific instructions ranging from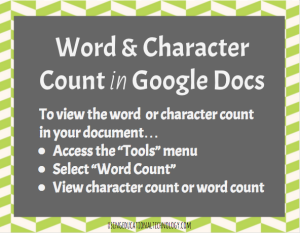 how to locate the word/character count while working in Google Docs to how to bold, underline, or italicize your font, and also how to add comments without using the comment icon.
These simple reminders have helped students learn to navigate the various features of Google Docs, and have cut down on the complaints about Google Docs lacking certain features that Microsoft Word includes. Most of the time, we've found that Google Docs offers almost all of the features found in Microsoft Word…we just have to look in different places to find them!
If you are interested in using the "Word and Character Count …" printable in your classroom, please download the PDF below.
To access a file with 11 shortcut printables to use in your classroom, please click on the link below. You will be taken to a different website to download the file. To a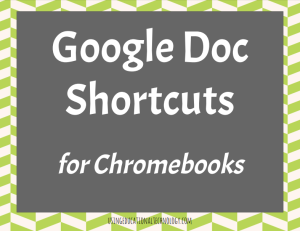 ccess and print all of the Google Docs printables at a discounted rate, please use the code teachwithtech at checkout!
Thanks for reading 🙂