Thank goodness for Twitter! I love stumbling upon new tools…especially game sites!
I recently found Quizalize during a late night #edtech search, and I'm so glad I did!
Like many formative, game-based websites, Quizalize allows teachers to create review games and activities for their students for FREE!
Unlike Kahoot or Quizizz, Quizalize offers a marketplace for teachers to not only search for already created games, but to also create bundles to sell!
Honestly, I haven't looked very much at the for purchase section..because I'm cheap 🙂
However, the option is there if you so desire to use it!
Quizalize allows teachers to create classes and quizzes, and then assign quizzes (created by the teacher as well as those found in the marketplace) to their students. Teachers simply create classes, provide students with the game code, and then direct them to quiz.al where they will enter a username. Quizalize uses this information to populate classroom rosters. This feature is not available with great tools like Kahoot or Quizizz.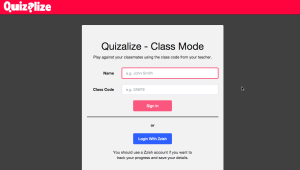 Creating quizzes using Quizalize is extremely easy. Simply select "new quiz" from your dashboard, title the quiz, and you're on your way! When creating quiz questions, teachers can choose to provide an explanation of the correct response, which would obviously be helpful to students.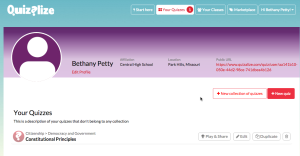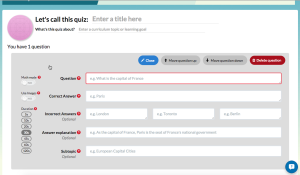 Another feature that sets Quizalize apart from other learning game sites is the team feature. As students access quiz.al to join a game, they enter a code and a username (hopefully, this process is second nature to your students by now!). They are then divided into two teams and earn team points, as well as individual points, for questions they answer correctly. This reminds me of a positive feature of old school review games like jeopardy or trashketball in which working as a team, though doing so electronically, can be positive for students.
Before assigning the quiz to students, teachers have a variety of options including randomizing question order (extremely important in my opinion!!), playing music, choosing a smaller question set, etc.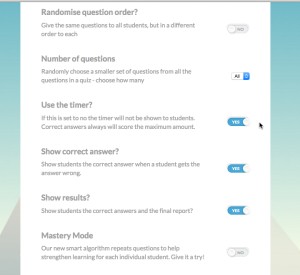 After students have entered the game code and their username, they will see the name of the quiz and then be given the option to start. Each question asked in these quizzes is worth 200 points.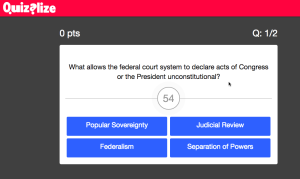 When creating quiz questions, teachers can choose from a variety of time options, spanning from 5 seconds to two minutes. Teachers can also move questions on the quiz during the creation process. Quizalize also offers the option to turn off the timer, which may help ease the stress of playing on some students!
Teachers can view student progress as they race across the screen, but can also view which students may need help at the bottom of the progress screen.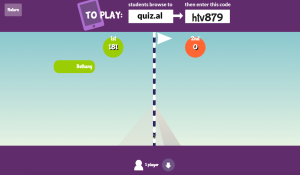 Quizalize is another great option for teachers who want to increase student engagement … and let's face it, who doesn't?! Quizalize is free, easy to use, and works on all Internet enabled devices. Give it a try!
Thanks for reading 🙂