I love when Google adds features to any of its products, but especially Google Forms. If you read this post, you'll understand my affection for Google Forms. I'm a bit of a Google Form geek 🙂
This article from Tech Crunch prompted me to do some exploring. Here's a quick breakdown of the new features:
Google Forms now has Add-Ons! Previously, Google Form junkies like me could use Add-Ons, but only from the comfort of Google Sheets. I'm getting more comfortable with this spreadsheet tool, but would not categorize myself as a Sheet guru, just yet. The addition of Add-Ons (lots of adding!) helps those who are less than comfortable with spreadsheets feel a tad more at ease and allows them to get the great functionality of Add-Ons. Yay, Google!
Now, Form creators can choose to be notified by email when a response is submitted. If you're using a Form for a small group of students, I think this would be a great option. However, if you're using your Form for a larger audience, this feature may be the death of your inbox 🙂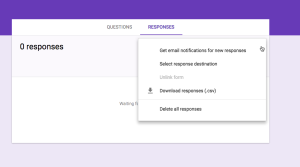 Accessing the Add-Ons couldn't be easier. Simply open a new Form, select the three dots, and click "Get Add-Ons."
In my classroom, the Choice Eliminator and Form Notifications Add-Ons will be most applicable in my classroom. The Choice Eliminator Add-On will make choosing topics for projects much easier. Using this Add-On, I'll quickly limit the number of students/groups that choose a specific topic without loosing my mind and trying to monitor a Google Doc…which I did last week :/
The Form Notifications Add-On is awesome as well because it will allow me to quickly contact students who haven't completed a specific form, while allowing me to share form responses, too. Yes, you can do this with Autocrat (Google Sheets Add-On), but Form Notifications seems much simpler 🙂
Thanks for reading!