It's no secret that Google has some pretty great tools available, especially for classroom use. GAFE has opened so many doors in my classroom, and I'm excited to share how I use Google Slides to create so much MORE than presentations!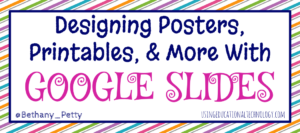 When I started blogging in January of 2014, I used Microsoft Word and Paint to create images for my blog. It's fun to look back at those old posts and see just how far I've come as a blogger 🙂 Sometime during the summer of my first year blogging, I discovered Canva and all of the awesome designing capabilities it has.
While Canva is really great, I've recently discovered that I prefer creating with Google Slides for a few reasons:
–> Google Slides is part of Google Drive: The fact that all of my designs, images, and printables are safely stored in my Google Drive helps me sleep better at night … ok, perhaps that's a small exaggeration. However, knowing that I can easily maneuver images from Slides to other apps in the Google Suite is great.
–> Google Slides has AWESOME fonts: If you watch the YouTube tutorial on this page, you'll no doubt pick up on my love for amazing fonts. Seriously. A good font can do wonders for a presentation, poster, printable, instructions, assignments, etc. Canva's fonts are great as well, and users have the ability to upload their own fonts – but, only if you upgrade your account – which I'm too cheap to do 🙂

–> Google Slides is extremely USER-FRIENDLY: After all, Google Slides is a Google app. It's familiar and easy to use. Make a few changes to the presentation dimensions, and you can create just about anything!
One of my many goals for my summer "vacation" (we all know teachers aren't ever really on "vacation!) is to create eTextbooks for my classes … I'll be doing this with Google Slides! More about this project later.
Check out the YouTube tutorial below to watch me create in Google Slides.