Standardized Test review can be the absolute worst "unit" of the school year. The end of the year can also be a fun time to reflect (and review) with students. Here's how I'm using humor again this year during standardized test review!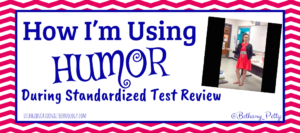 Crazy YouTube videos!
Toward the end of last school year, I shared some of my "raps," and I use that term VERY loosely, that I made for my students to help them with content review. I've included these catchy tunes throughout the year to help engrain those important concepts, and it has worked! Who would have ever thought that a rhyme I created in a minute would help my students remember the Marbury v Madison landmark case established the principle of judicial review? Definitely not this crazy Government teacher! As we begin various review activities, I push a specific "rap" to my students – and allow them to get a good chuckle at the expense of their teacher – then begin an activity associated with the video.

Meme it!
Since gamifying my Government classes, it seems as though my students always ask for ways to earn XP. Their motivation to "level up" before the end of the year is just so awesome. Tomorrow, I'll be introducing a "side mission" – creating memes of Government concepts. I CANNOT WAIT to see what they create!
Punny Puns!
I'm a sucker for puns. Seriously, it's an addiction. What's really great is that my students totally understand this obsession with puns, and "humor" me. Ha! To give them a little laugh before their EOC, I'll be passing out "Governmints!" This is an inexpensive way to hopefully bring a little smile, or at least an empathetic eye-roll, to my students' faces as they take their tests.
How do you ease tension during standardized testing season?
Thanks for reading 🙂