I've been so incredibly fortunate during the past few weeks to attend great professional development workshops and network with some fabulous Social Studies teachers! Don't you love when you get to learn with and from "your people"?! One of my (many) goals for this school year has been to increase my focus on vocabulary, especially in my Government classes. It was so great to hear other teachers talk about the importance of vocabulary instruction in their Government classes and what activities and strategies have worked with their students!When students think of Social Studies classes, they often think of history … content that they've at least been exposed to since they were knee-high to a grasshopper! Rarely, do they associate Government/Civics with Social Studies… which means that Government content can come as a bit of a shock to their system!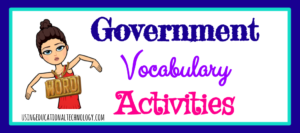 Since Government is such a new topic for most of my juniors and is so incredibly vocabulary intensive, I've decided to (hopefully) help my students master the vast content through continuing to build content vocabulary knowledge, and provide more time for guided practice.
By guided practice, by the way, I mean GAMES!
Last Wednesday was the first "Vocabulary Day" my students experienced in my classroom. We focused on terms they learned in our first unit, as well as what they had been exposed to up until that point in our current unit. This is NOT something I have ever done in 8 years of teaching Government.
After giving students time to review vocabulary for unit one by using Quizlet (they LOVE the matching game and trying to beat my score!), we moved on to play Quizlet Live. Holy moly. Please tell me you've played this game with your classes! My students love it! I love it! It promotes mastery learning! It helps them review content vocabulary! It's fabulous!
For more information about how to use Quizlet Live, check out this post! (Update … Quizlet now allows teachers to choose whether or not to scramble teams when starting a new Live session. This. Is. Awesome!)
How was Government Vocabulary Day received by my students, you ask?
They loved it!
When students are working together with classmates to review Government concepts, competing for Bonus XP and still playing the game as the bell rings and they're walking out the door, that's a successful day!
I'm thinking about creating a Government word wall … what do you think?
How do you review content vocabulary with your students?
Thanks for reading 🙂