Do your students appreciate gaming for than homework?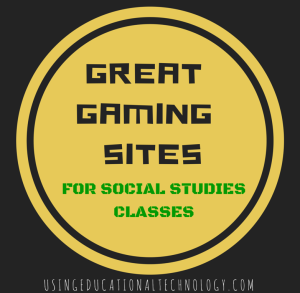 My guess is that the closer we get to the wonderful month of May, your answer is a resounding yes 🙂
Below are two of my favorite online game sites that are actually relevant  to our wonderful content!
Pursued
This game begins as the player is dropped into an unknown city and must identify their location in order to be rescued. Pursued uses images from Google Maps to provide players with clues as to where in the world they are. Players use the arrow keys on their computer to navigate their surroundings, and then enter their best guess as to where they are located. Points are awarded based on accuracy of course, as well as how quickly (how few attempts) players determine their location. Players level up and can even create their own levels. It's FUN!!  

iCivics
I've blogged about the amazing tool that is iCivics before. This FREE tool, created under the guidance of retired Supreme Court Justice, Sandra Day O'Connor, offers teachers a variety of instructional resources they can employ in their classrooms. One of my favorite features of iCivics is that teachers can choose activities based not only on the unit of study, but also by state standard. Awesome! How great is that? Instructional GAMES sorted by STANDARD!! Thank you, iCivics!

Here's one more…
An additional gaming site that I just discovered is Nation States in which users can create their own country according to a variety of characteristics. I introduced this game to my students today, and many of them LOVED the fact that they could create their own country, complete with establishing a national currency, the political orientation of their government, and more. The students LOVED IT!
I don't FULLY recommend the game, however, because of the "forums" feature which could get a bit dicy. However, teachers could create their own nation, and then invite their students to create nations under the teacher's nation…does that make sense? With this, teachers could exert more control over their students' nations.
Nation States is DEFINITELY fun and relevant…and my high schoolers had tons of fun with it!
Thanks for reading 🙂