My Presidents Unit is rapidly drawing to a close, and my students are preparing to reap one of the benefits of the flipped classroom.
Constant access to lecture material!
To help my students access and manage video resources for this unit, I created a Blendspace board that includes the instructional videos they were assigned. This board is included below.

My students are really appreciative of the Blendspace boards I create, because it prevents them from having to search YouTube or other avenues to locate their lecture videos.
Today, for the first time in forever (you know you're singing along!), I used Lets Geddit with my students. I need to quickly gauge their understanding of topics discussed in the instructional videos, and determine whether or not the class as a whole was ready for the test.
They are 🙂
My students were very thankful for an addition I made to the "Geddit" questions today.
What change did I make?
I simply added the video title to the end of the questions.
This was a simple, yet POWERFUL addition!
Based on their individual, as well as whole class, responses to the specific questions, they were able to see which videos they might need to revisit, and which videos they could probably listen to while they're doing other homework.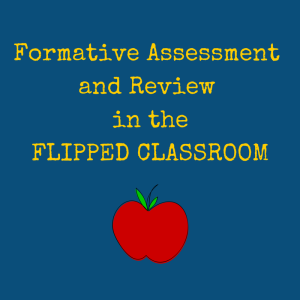 Why, oh why, did I not think of this earlier???? Face palm.
Formative assessment…it's not just for teachers 🙂
How do you help students review in your flipped classroom?
Thanks for reading 🙂