Hello, all and happy Friday! We're preparing for our week-long beach vacation today and are getting REALLY excited to dip our toes in the ocean on Sunday! As our vacation has been getting closer, our oldest daughter, Hanna, has been really concerned about and interested in the weather in Destin, Florida – our vacation spot. She's been asking to check my phone to see the weather in Destin which means I've had to add Destin to the "places" on my weather app. I noticed yesterday, though, that instead of checking the weather app to see if it's raining in Destin (her worst nightmare!) she's been asking Siri to tell her what the weather is like in Destin. We've also been asking Siri to tell us what the heat index is in our hometown to help us determine whether or not playing outside is the best idea – it is HOT in Missouri! Our youngest daughter, Molly, was curious yesterday about how to say "ouch" in Spanish. She didn't even hesitate to yell out, "Hey, Siri! How do you say ouch in Spanish?" It's so neat to watch my daughters, ages 5 and 7, effectively utilize technology in a positive way, which led me to think about how my classroom has changed (and needs to continually change) to become an environment in which students utilize the available technology in a positive way.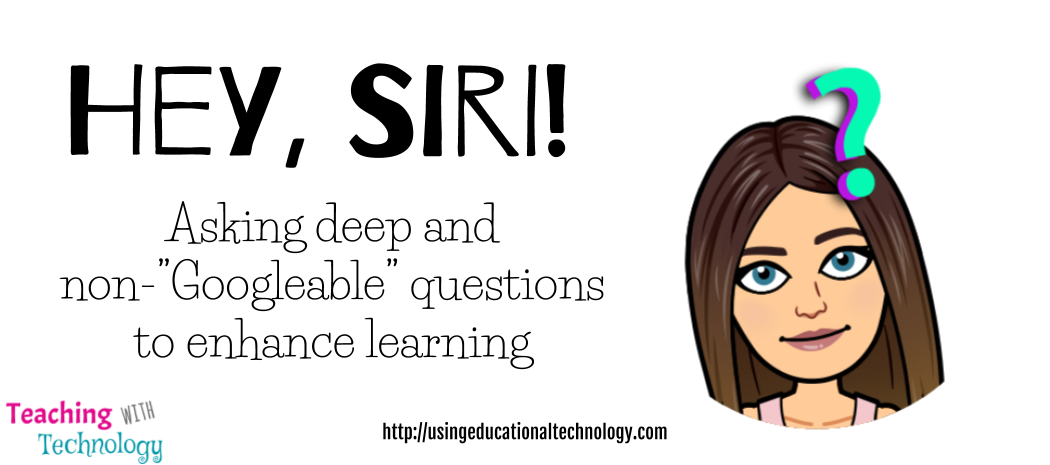 A few weeks ago, I attended and presented at CORE Academy at my alma mater, Southeast Missouri State University, and was able to meet some pretty amazing educators. One of them, Alice Keeler, delivered a keynote that really resonated with me – she discussed how technology like Siri or Alexa has changed the way our kids find information. Alice mentioned that her kids ask Alexa questions daily and that they know that they can "shout questions to the universe" and get an answer. As I was listening, I began to think about the questions that I ask in my classroom – verbal questions, assessment questions, formative assessment questions, etc. – and began assessing myself…are the questions I ask of my students, "Googleable" questions? Are they questions that my students can "shout to the universe" and get the "correct" response? Or, are they questions that make my students think about the content that they've learned and apply that knowledge to form a deeper understanding of the topic?
I, like you, am aiming for the latter type of question. I don't want to focus on "Googleable" questions and answers because they are just that, "Googleable." In Illuminate, I discuss how the ability to simply recall information, such as the date that the Bill of Rights was ratified, really doesn't provide students with a deep understanding of the Bill of Rights. Assessing them on when these extremely important amendments were added to the Bill of Rights is not really that important. What is important is that our students understand the rights that they are guaranteed by these amendments and how they have been interpreted throughout our country's history.
As I'm revamping my curriculum this summer, I'm working on incorporating "application" questions into assessments – both formative and summative. I want my students to think about our content at a deeper level rather than just memorizing facts and dates that, let's face it, they can ask the universe and get the correct answer.
Thanks for reading 🙂